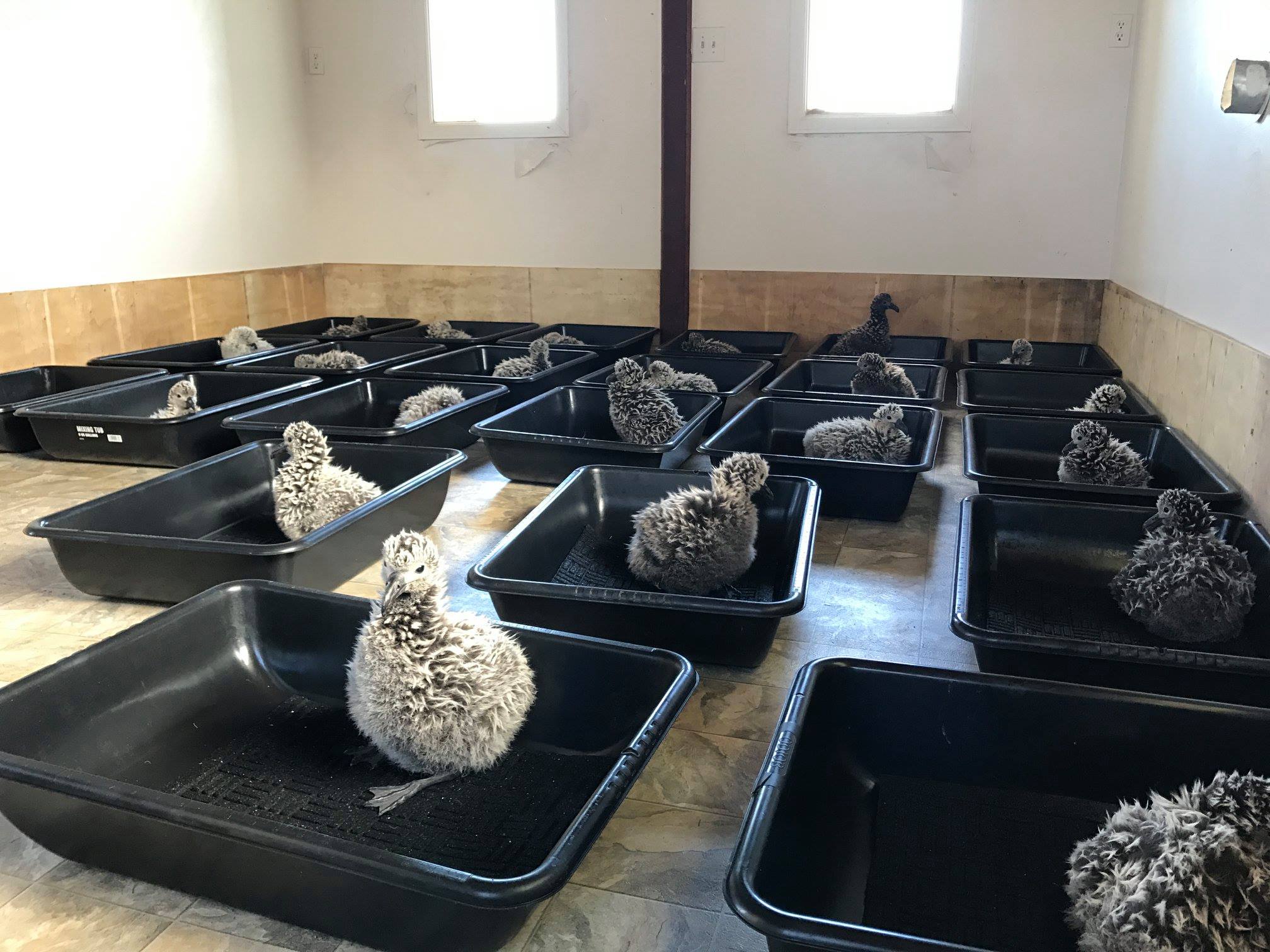 Black-footed Albatross chicks of the 2018 translocation cohort in the James Campbell National Wildlife Reserve, photograph from Pacific Rim Conservation
Twenty-five Near Threatened Black-footed Albatross Phoebastria nigripes chicks were transported by air from the Midway Atoll National Wildlife Refuge to the James Campbell National Wildlife Refuge on the Hawaiian island of Oahu in February this year. Since then the birds have been hand fed behind a predator-proof fence until fledging by the environmental NGO Pacific Rim Conservation. This is the fourth year of the project that aims to establish a new breeding colony protected against predicted sea-level rise which will deleteriously affect most of the albatrosses' low-lying breeding sites in the North Pacific. It is hoped that after three to five years at sea the young albatrosses will return to the James Campbell NWR to breed (click here).
All the 25 translocated Black-footed Albatrosses have now successfully fledged; one being watched by a drone as it flew out to sea. Fittingly, the first one fledged on 19 June: World Albatross Day! The last bird left on 12 July. This brings the total fledged over four years to 86, out of 90 chicks collected from their original breeding sites (information from Lindsay Young, Pacific Rim Conservation and earlier posts to ACAP Latest News).
Watch the six-minute video here on hand-rearing the 2017 cohort of Black-footed Albatrosses in the James Campbell NWR.
Pacific Rim Conservation has translocated chicks of three other seabird species from low-lying atolls to the refuge to be hand reared: Laysan Albatross P. immutabilis, Bonin Petrel Pterodroma hypoleuca and Tristram's Storm Petrel Hydrobates tristrami.
The effort to create a new Black-footed Albatross colony considered safe from sea-level rise is being undertaken by Pacific Rim Conservation in partnership with the US Fish & Wildlife Service. Read more on their translocation efforts here.
With thanks to Lindsay Young, Pacific Rim Conservation.
Reference:
VanderWerf, E.A., Young, L.C., Kohley, C.R., Dalton, M.E., Fisher, R., Fowlke, L., Donohue, S. & Dittmar, E. 2019. Establishing Laysan and black-footed albatross breeding colonies using translocation and social attraction. Global Ecology and Conservation doi.org/10.1016/j.gecco.2019.e00667.
John Cooper, ACAP Information Officer, 16 July 2020