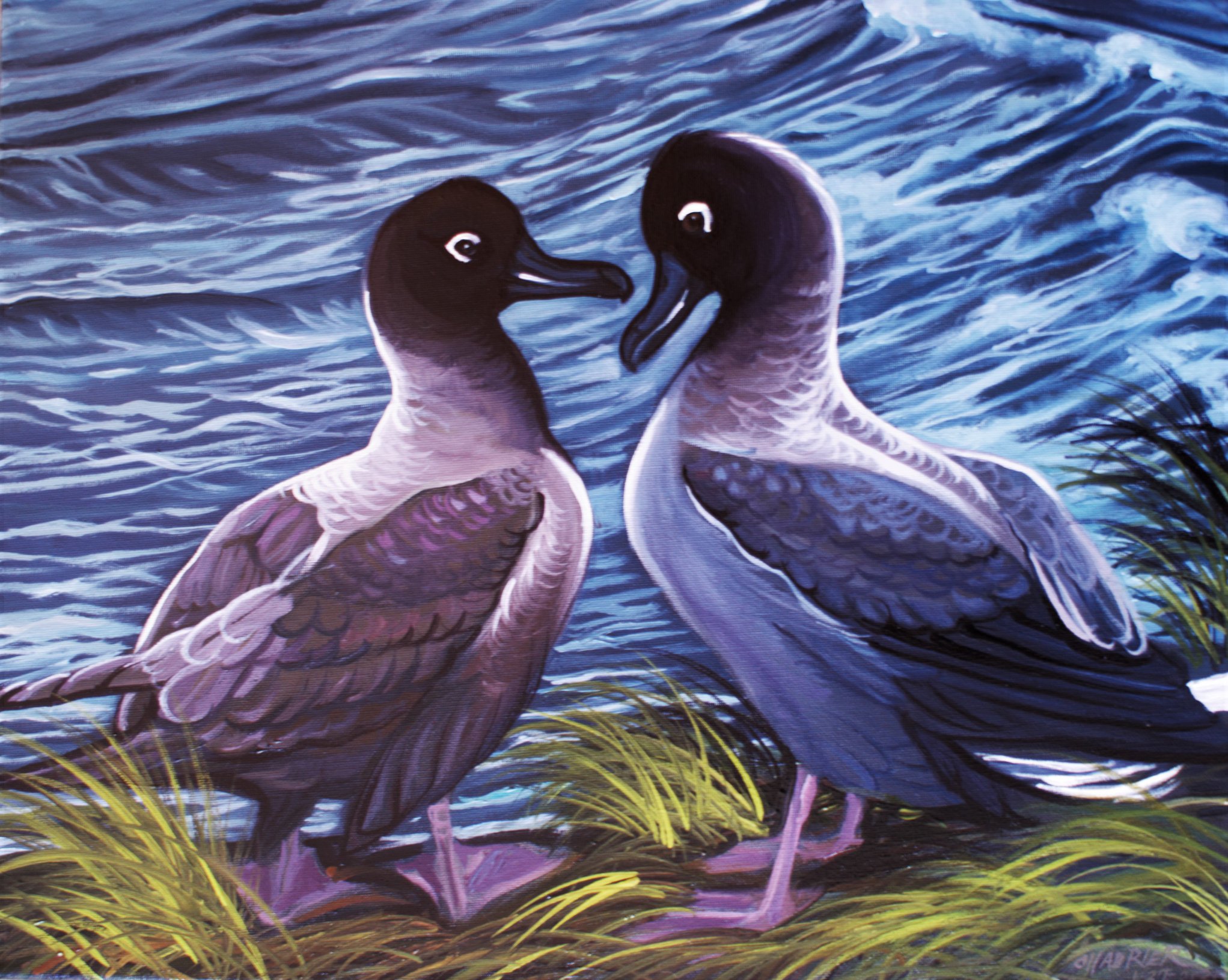 Light-mantled Albatrosses at the Auckland Islands, by ABUN artist Annie Shoemaker-Magdaleno from a photograph by Colin O'Donnell
Rebecca French (Charles Perkins Centre, School of Life and Environmental Sciences, The University of Sydney, Australia) and colleagues have published in the ornithological journal Notornis on historical trends of birds, including ACAP-listed seabirds, on sub-Antarctic Enderby Island south of New Zealand.
The paper's abstract follows:
"Enderby Island is a much-visited small island in the New Zealand subantarctic, and is an important area for birdlife. However, despite this, the bird community of Enderby Island has never been systematically described. We summarise bird records on Enderby Island from 1840 to 2018. Using these data we describe the bird community with an emphasis on resident species, and compare the frequency of sightings before and after eradication of invasive mammals in 1993. We also investigate trends in bird sightings from 1992 to 2018. There was a significant increase in the sightings of some species, including tui (Prosthemadera novaeseelandiae) and silvereye (Zosterops lateralis), and a significant decrease in others, including white-fronted tern (Sterna striata). Some species, such as New Zealand falcon (Falco novaeseelandiae) and Auckland Island snipe (Coenocorypha aucklandica aucklandica), have recovered successfully following dramatic historical declines. We hypothesise that these trends in sightings are driven by changes in human exploitation, the introduction and subsequent eradication of browsing mammals and mice, changes in the abundance and structure of the invertebrate community, and changes in vegetation cover. However, we believe that trends in sighting rates of southern royal albatross (Diomedea epomophora) may be an artefact of changes in visitor behaviour following the construction of a boardwalk, rather than changes in the species' abundance."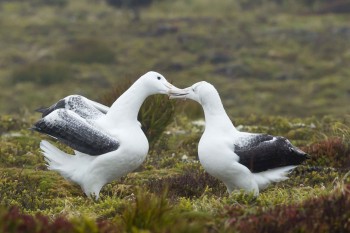 Southern Royal Albatrosses on Enderby Island, photograph by Barry Baker
This publication forms part of a compilation of 19 papers appearing in a special issue of the journal Notornis of Birds New Zealand that covers many aspects of the avifauna of the Auckland Islands. The special issue is also being made available as a 436-page book with the title Lost Gold: Ornithology of the subantarctic Auckland Islands. Edited by Colin Miskelly and Craig Symes, it can be ordered for purchase (click here). An interview with the two editors gives information about their work with the book. Click here to access abstracts for all 19 papers.
With thanks to Colin Miskelly, Museum of New Zealand Te Papa Tongarewa.
Reference:
French, R.K., Miskelly, C.M., Muller, C.G., Russ, R.B., Taylor, G.A., & Tennyson, A.J.D. 2020. Birds of Enderby Island, Auckland Islands, New Zealand subantarctic. Notornis 667: 189-212.
John Cooper, ACAP Information Officer, 15 April 2020