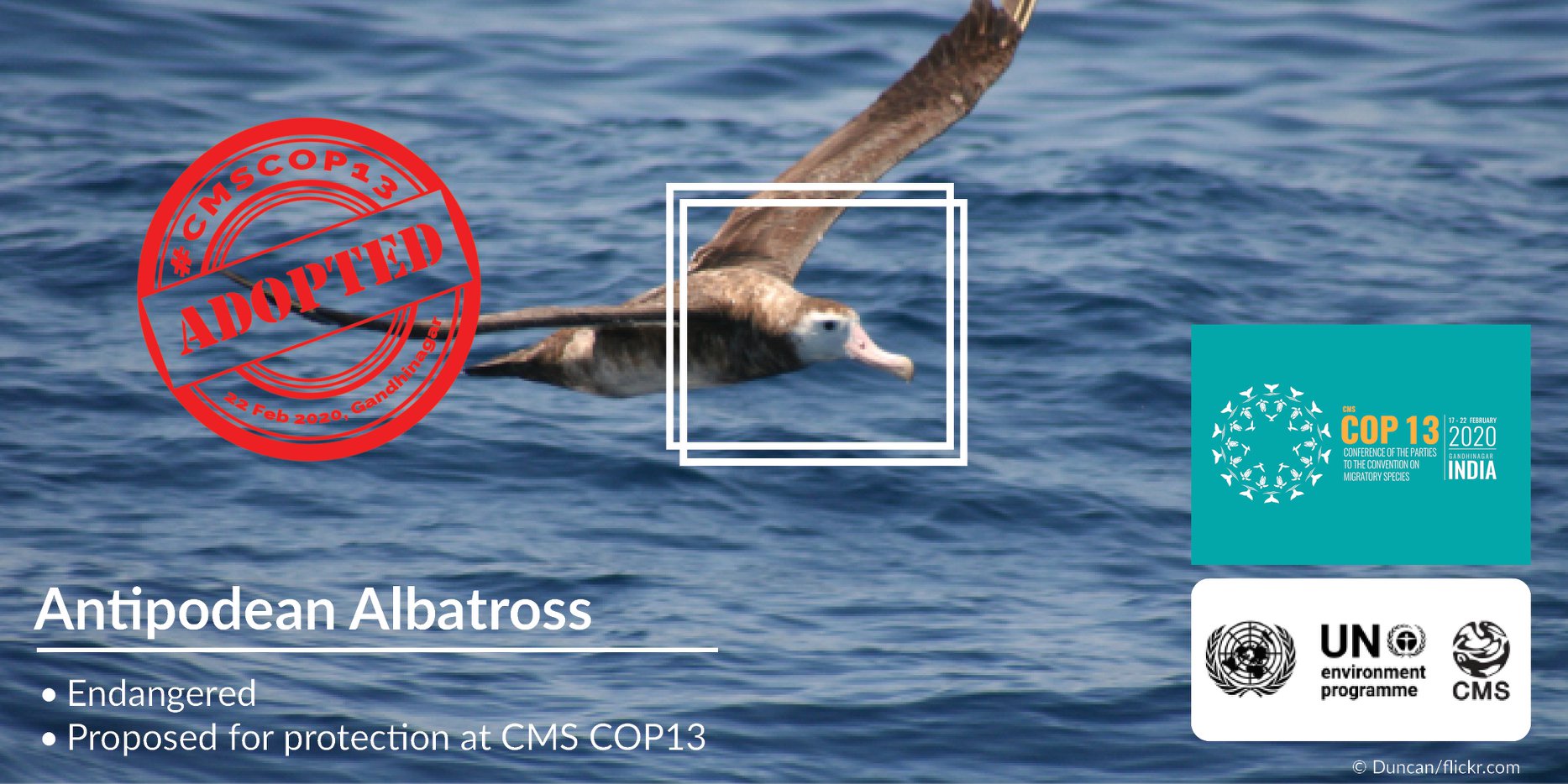 The Convention on the Conservation of Migratory Species of Wild Animals (CMS) at its 13th Meeting of the Conference of the Parties (COP13) held in Gandhinagar, India over 17 - 22 February 2020 listed the globally Endangered Antipodean Albatross Diomedea antipodensis on Appendix 1 of the Convention. Appendix I comprises migratory species that have been assessed as being in danger of extinction throughout all or a significant portion of their range. "Parties that are a Range State to a migratory species listed in Appendix I shall endeavour to strictly protect them by: prohibiting the taking of such species, with very restricted scope for exceptions; conserving and where appropriate restoring their habitats; preventing, removing or mitigating obstacles to their migration and controlling other factors that might endanger them". Appendix II, on which the albatross was already listed, covers migratory species that have an unfavourable conservation status and that require international agreements (such as ACAP) for their conservation and management, (click here).
The Antipodean Albatross was proposed by New Zealand, in which country the species is a breeding endemic, along with range states Australia and Chile (click here). During discussion of the proposal at COP13 Uruguay made a statement in support of the listing on behalf of the Latin American and Caribbean Parties. The European Union, host Party India and ACAP also spoke in support.
A shortened version of a press release by Eugenie Sage MP, New Zealand Minister of Conservation follows:
"New Zealanders care deeply about backing nature and backing birds like Antipodean albatross - it is a remarkable species, flying incredible distances every year, and is taonga/a treasure to Māori. International cooperation is critical to bring the Antipodean albatross back from the brink of extinction. This agreement will help create stronger measures to reduce instances of Antipodean albatross being inadvertently caught by fishing vessels - including on the high seas – so these birds can migrate safely. Antipodean albatrosses are in serious trouble and need protecting. Numbers have halved since 2004 and we now only have 9,050 breeding pairs. At the current rate of decline, this species could be extinct within the next 20 years."
"Antipodean albatrosses cross several international boundaries during their annual migrations. They breed on islands off southern New Zealand, then spend much of their lives flying over the Pacific Ocean, travelling to Australia and across the high seas to Chile. We signed an arrangement with Chile in late 2018 [click here] to tackle the decline of our albatross, petrels and other vulnerable seabirds. Today's agreement shows an increasing international consensus on the need to save seabirds from extinction."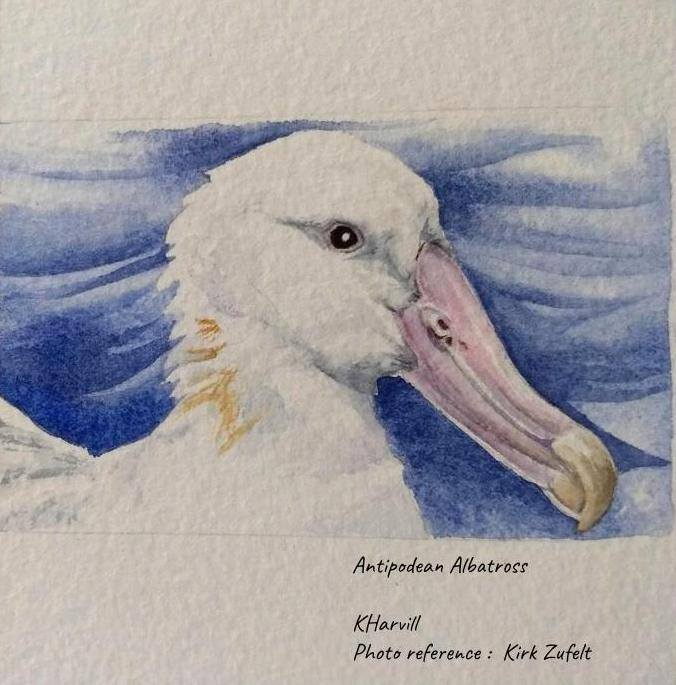 Antipodean Albatross by Kitty Harvill, Artists and Biologists Unite for Nature (ABUN), from a photograph by Kirk Zufelt
The Australian Minister for the Environment, Sussan Ley MP has expressed similar sentiments to her New Zealand counterpart, saying "This is a tremendous outcome that will help reduce instances of the albatross being inadvertently caught by fishing vessels in coastal waters and the high sea[s], so that these birds can migrate safely". She affirmed that Australia will continue to be a strong advocate for protecting the natural environments that sustain migratory birds such as the Antipodean Albatross (click here).
ACAP's Executive Secretary, Christine Bogle, attended COP13. In her statements to the Parties she affirmed that as part of the CMS family, ACAP wants to take the opportunity to reaffirm its relationship with the Convention and our wish to collaborate with others in confronting the conservation crisis faced by albatrosses and petrels. She noted that the Antipodean Albatross has been listed on Annex 1 of the Agreement since 2004 (the year the Agreement came into force), and that the Antipodes Island nominate population [on Antipodes Island] has been an ACAP High Priority Population since 2017, recognising the rapid decline of this globally significant population due to bycatch.
The Executive Secretary further stated that "Incidental mortality in fisheries continues to be the most serious threat facing these threatened seabirds and international cooperation is required to confront this. Despite all the research and attention devoted to the development of best practice bycatch mitigation measures, these have not been used sufficiently extensively to stop the decline in the numbers of many albatross and petrel species."
She closed her statement with a mention of World Albatross Day, which will be celebrated for the first time on 19 June 2020. She noted that each country can undertake whatever activities it chooses to commemorate these wonderful birds.
View the proposals for listing (UNEP/CMS/COP13/Doc.27.1.7) and for Concerted Action (UNEP/CMS/COP13/Doc.28.2.12) and the closing CMS press release.
The theme for COP13 was "Migratory species connect the planet and we welcome them home". Listen to and view the theme song and video.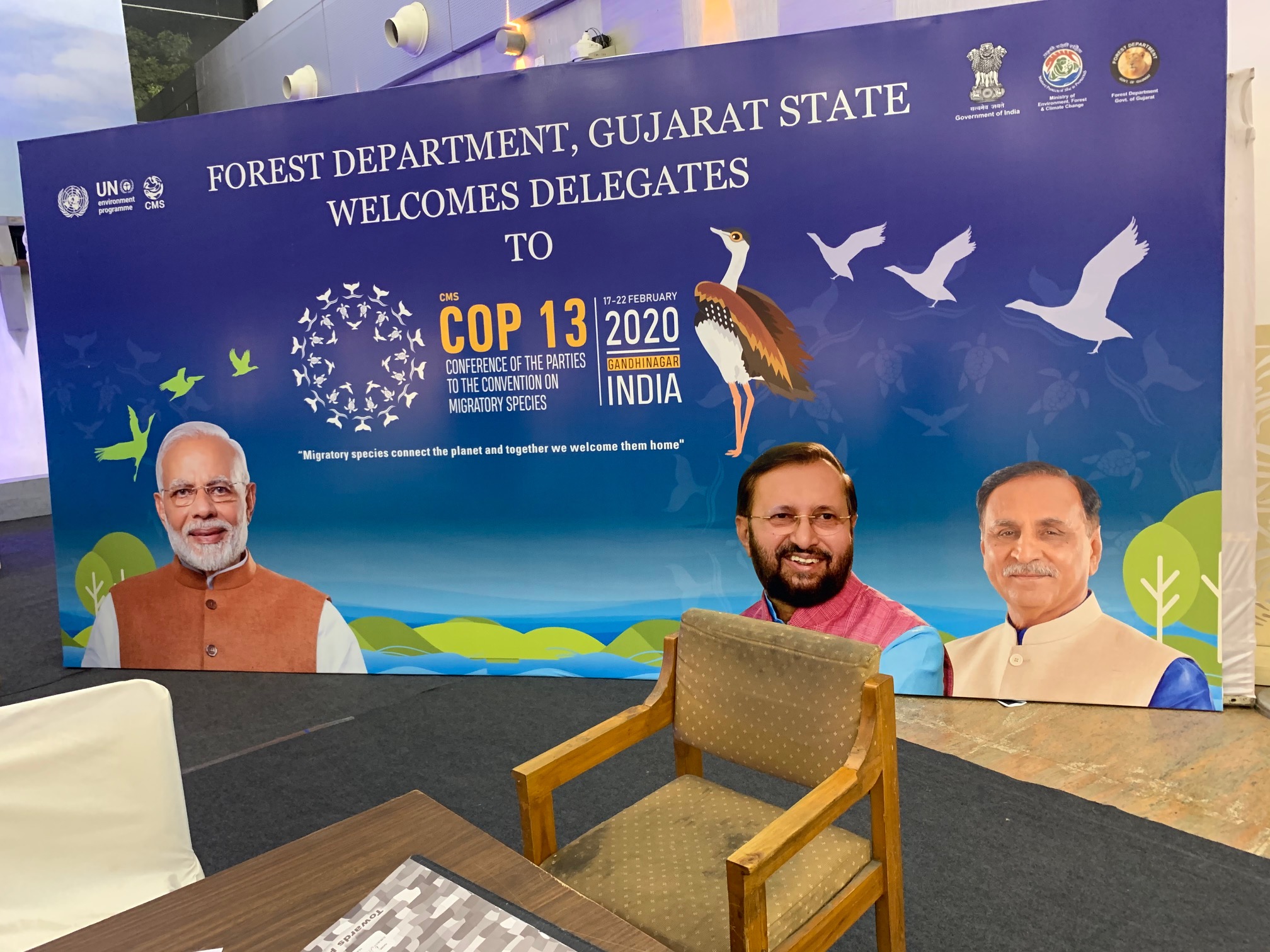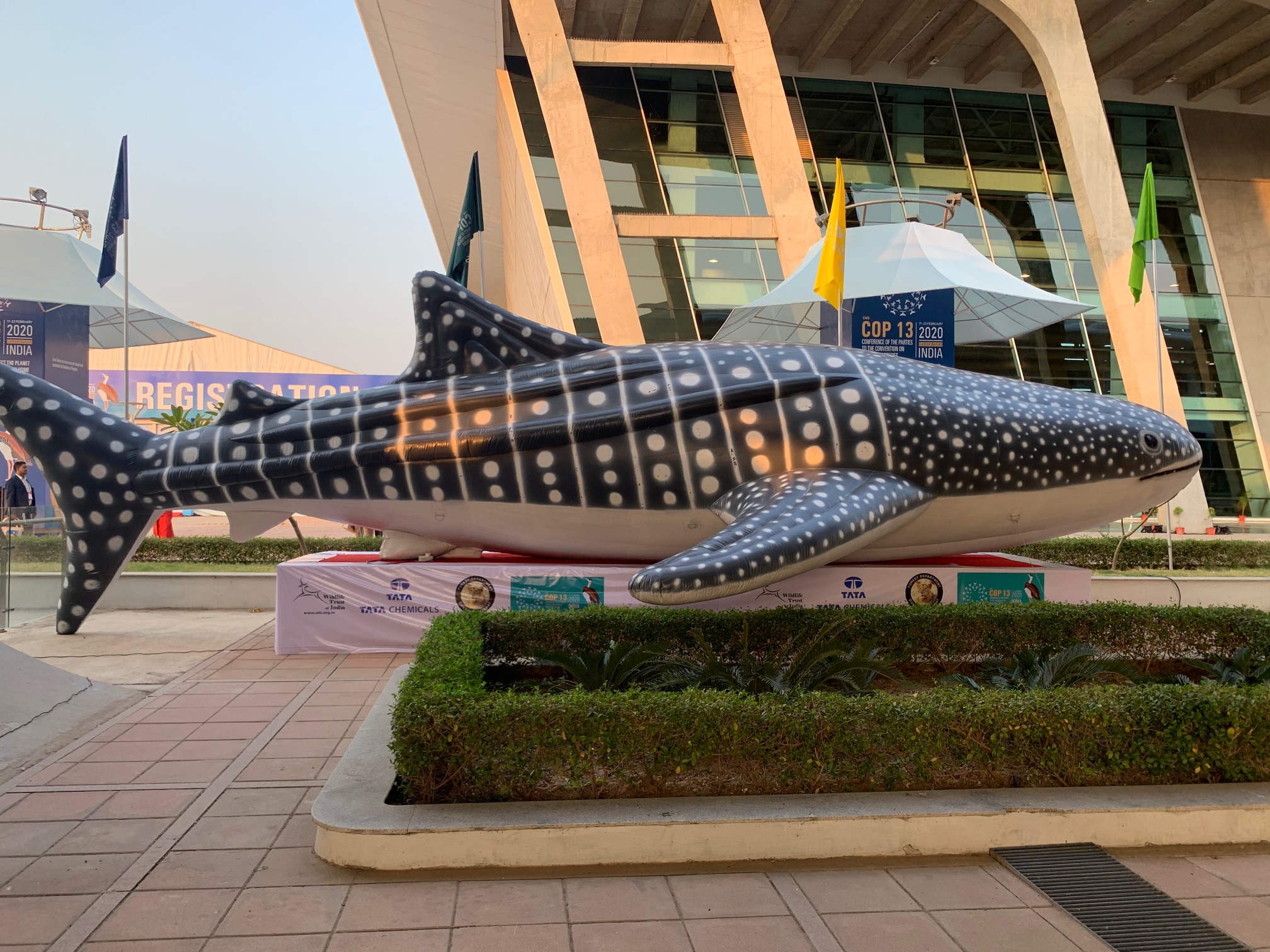 .A Whale Shark Rhincodon typus on display at CMS13
With thanks to Barry Baker and Kitty Harvill.
John Cooper, ACAP Information Officer 27 February 2020