The Antarctic Marine Ecosystem Futures Scientific Conference will be held in Moscow, Russia over 13-15 May 2020.
"The goal of the Conference is to foster collaboration between scientists studying Antarctic marine ecosystems to inform policy and to highlight the role of collaborative science in Antarctica. During the Conference the participants will discuss the state of, and emerging threats to the Antarctic marine ecosystems; key challenges; and possible solutions."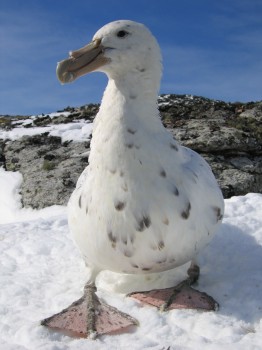 White-phase Southern Giant Petrel, Signy Island, maritime Antarctica, photograph by Michael Dunn
Main topics:
Scientific research in Antarctica: history, achievements, gaps, challenges and opportunities
Collaboration: examples of previous collaboration and ways to collaborate in the future
Antarctic marine ecosystems: structure and functioning
Changes and challenges for Antarctic marine ecosystems: climate change, invasive species, human activities
Antarctic krill: science, management and conservation
Marine mammals and seabirds: ecology, distribution, trends and challenges
Solutions and conservation measures including Marine Protected Areas, the role of science and the scientific community.
Languages for the conference will be Russian and English with simultaneous translation.
Read more here.
John Cooper, ACAP Information Officer, 27 October 2019