New Zealand's Department of Conservation has released an on-line resource for mitigation measures for seabirds that are specific to surface and bottom longline, trawl, net and recreational fisheries. Individual mitigation techniques for seabirds (e.g. deployment of bird-scaring lines; bird bafflers, discard management, sink rates, night setting, avoiding 'ghost fishing' from lost or discarded nets and lines, etc.) are described by short video clips with spoken commentaries. More information is given in downloadable "circulars" that give specifications for bird-scaring lines and details for the other mitigation methods.
Also included in the new resource are Protected Species Identification Guides, including for seabirds, and a guide detailing best- practice methods for handling and treatment of protected species. The latter document is available in a total of six languages spoken by important fishing nations.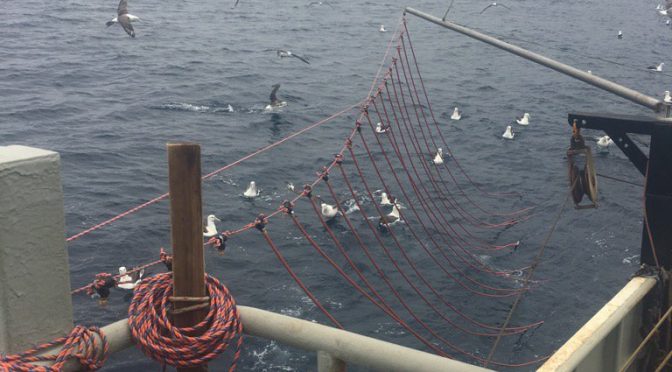 A baffler in use keeping albatross at bay
With thanks to Graham Parker.
John Cooper, ACAP Information Officer, 26 October 2019