The Midway Seabird Protection Project aims to eradicate introduced House Mice Mus musculus from Sand Island, part of the USA's Midway Atoll next year. The operation is scheduled to take place over the month of July near the end of the dry season when the mice are looking for scarce food sources and when bird numbers on the island should be at their lowest (click here to read more and to access the very detailed Final Environmental Assessment and Project Plan). The mice in recent years have started to attack and kill breeding Black-footed Phoebastria nigripes and Laysan P. immutabilis Albatrosses (click here to access ACAP Latest News postings on Midway's mice). "From 2015 to 2017 the number of mouse attacks on seabirds at Midway exploded – growing from a series of isolated attacks to a widespread crisis affecting birds throughout the albatross colony".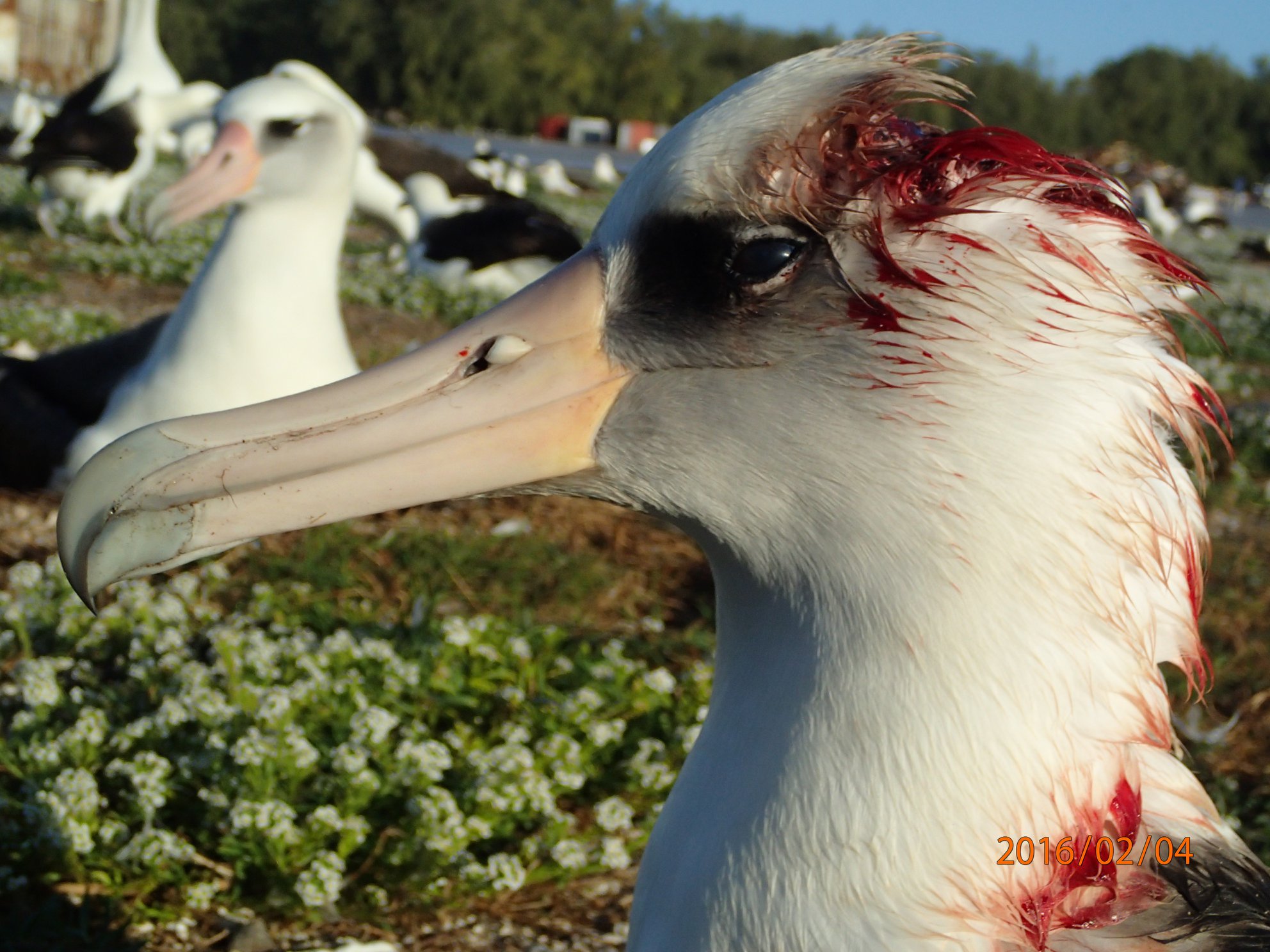 Mouse attack! A wounded adult Laysan Albatross on Midway Atoll, photograph from the Friends of Midway Atoll National Wildlife Reserve
Bait pellets containing the rodenticide Brodifacoum 25D will be spread across much of the island from helicopters using a specially designed bait hopper; buildings and surrounds will be treated by hand baiting, bait boxes and trapping. Prior to the start of the project, a mitigation team will attempt to capture some 400 individuals of the Critically Endangered Laysan Duck Anas laysanensis on Sand Island that have been deemed to be at risk to poisoning. Captive ducks and also globally Vulnerable Bristle-thighed Curlews Numenius tahitiensis and perhaps other shorebirds (which do not breed on Midway) will be kept in aviaries on Sand Island until immediately before the July application period. They will then be moved to corresponding aviaries or released following wing clipping on nearby mouse-free Eastern Island where they will be kept until monitoring teams deem it safe to release them back on Sand Island. Few migratory shorebirds are expected to be on Midway in July. Strict biosecurity procedures already in existence will continue after the bait drop to minimise the chances of mice being reintroduced to the atoll.
One of the partners with the U.S. Fish and Wildlife Service of the Midway Seabird Protection Project is the NGO Island Conservation, which is aiming to raise one million US Dollars towards the cost of the eradication exercise via an Adopt an Albatross campaign (click here). It has now reported via its Facebook page that due to "generous contributions of our donors and partners" the funding gap is now US$750 000. Financial support has also come from the Friends of Midway Atoll National Wildlife Reserve (FOMA) which has made US$20 000 available for the construction of the required aviaries as reported on ts Facebook page.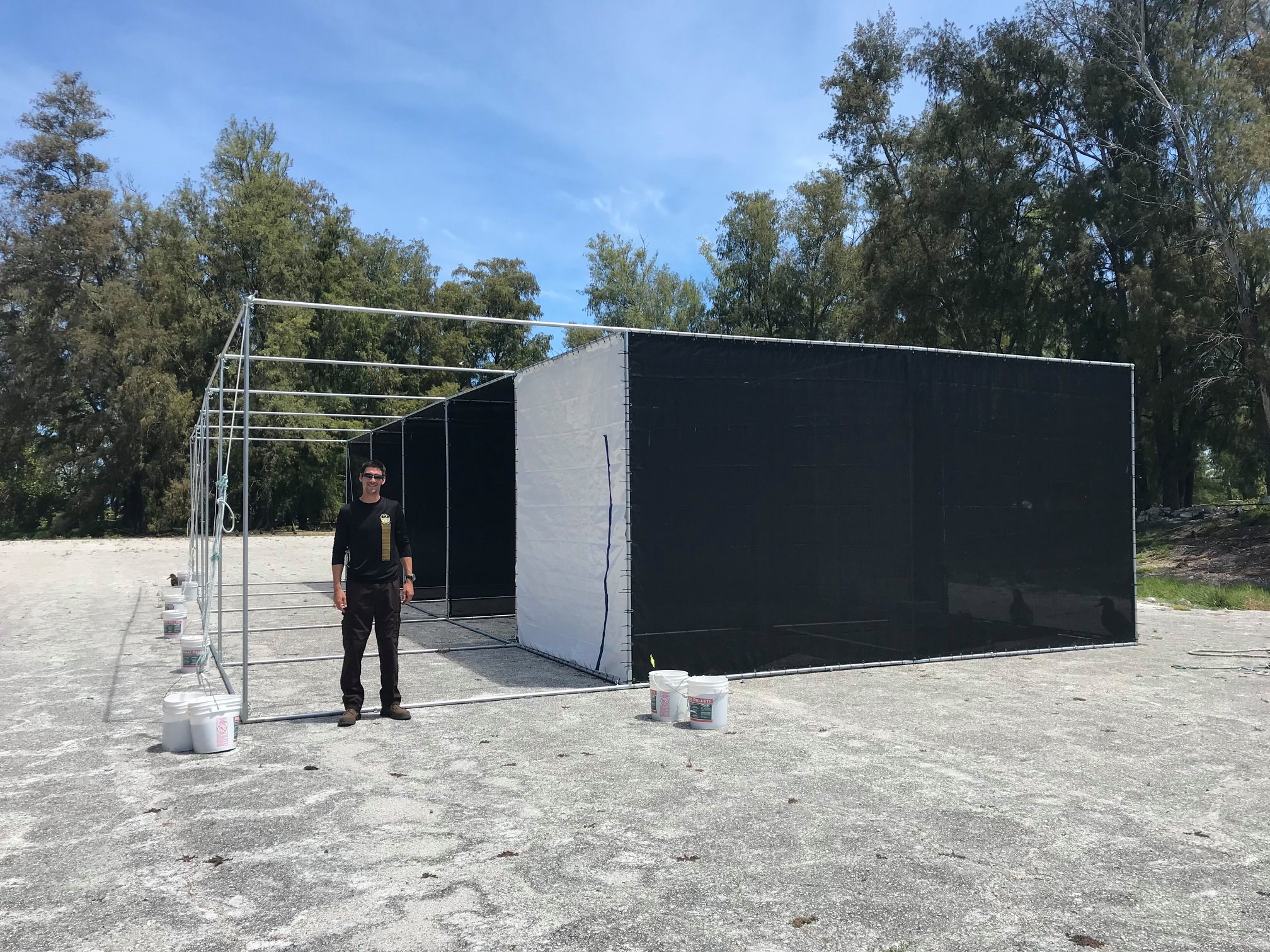 Aviaries under construction on Midway's Sand Island, photograph from the Friends of Midway Atoll National Wildlife Reserve
Next year will be the first year that a World Albatross Day is held, on 19 June, the date the Agreement was signed in Australia. The chosen inaugural theme is "Eradicating Island Pests". ACAP Latest News will follow progress towards next year's Midway eradication as part of the build up to World Albatross Day.
Reference:
Hamer Environmental L.P. and Planning Solutions, Inc. 2019. Midway Seabird Protection Project Final Environmental Assessment Sand Island, Midway Atoll, Papahanaumokuakea Marine National Monument. Honolulu: U.S. Fish and Wildlife Service. 350 pp.
John Cooper, ACAP Information Officer, 09 October 2019