A report by NIWA (National Institute of Water and Atmospheric Research) presented to New Zealand's Department of Conservation at a meeting of its Conservation Services Programme (CSP) Technical Working Group late last month describes new research conducted on globally Vulnerable and Nationally Critical Salvin's Albatrosses Thalassarche salvini breeding on the Bounty Islands.
The report's Executive Summary follows:
"The Department of Conservation commissioned NIWA to complete ground-based surveys of Salvin's albatrosses (Thalassarche salvini) that breed on the Bounty Islands. This fieldwork involved deploying transmitting Global Positioning System (GPS) tracking devices and geolocation data loggers (Global Location Sensing (GLS) tags) on breeding birds on Proclamation Island, Bounty Islands; banding and recapturing birds in a study area; completing counts of breeding and non-breeding birds along transects at various time of the day; and deploying automated time-lapse cameras that covered part of the study area. This report outlines the activities undertaken, data collected and a description of the methods used.
Landings were made on Proclamation Island, Bounty Islands, on 20, 21 and 22 October 2018. During this time 14 transmitting GPS and 54 GLS data loggers were deployed on breeding birds. In addition, 98 birds (including the birds fitted with GPS and GLS tracking devices) were fitted with a uniquely numbered stainless steel leg band, with 97 of these birds also fitted with a red numeric plastic band to facilitate identification without the need for recapture. A total of 12 transect counts were undertaken to determine the proportion of breeding birds ashore. Finally, six time-lapse cameras were deployed so that they covered about 41 nests in the study area. Retrieval of the GLS devices is planned for November 2019."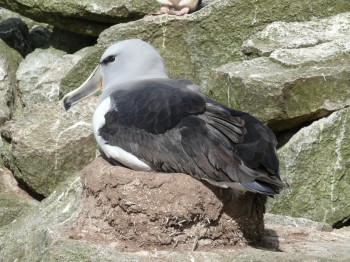 A breeding Salvin's Albatross, photograph by Paul Sagar
The Conservation Services Programme monitors the impact of commercial fishing on protected species, studies species populations and looks at ways to limit bycatch. The programme is funded by levies from commercial fishers.
With thanks to Graham Parker, Parker Conservation.
Reference:
Sagar, P., Charteris, M., Parker, G., Rexer-Huber, K. & Thompson, D. 2018. Salvin's albatross: Bounty Islands population project ground component. Wellington: National Institute of Water & Atmospheric Research Ltd. 18 pp.
John Cooper, ACAP Information Officer, 28 June 2019