BirdLife South Africa is tackling the problem of designing bird-scaring lines (BSLs) for small (<35-m) longliners in the domestic fishery that are cheap, easy to deploy and less likely to get entangled than those made for deployment on larger vessels. Use of BSLs is mandatory in South African longline (and trawl) fisheries.
Andrea Angel and Reason Nyengera of BirdLife South Africa's Albatross Task Force (ATF) write in a recent blog
"Bird-scaring lines (BSLs) have become the primary and most commonly prescribed seabird bycatch mitigation measure in longline fisheries worldwide. These are usually composed of a backbone section, colourful streamers and a drag section or towing device. They are extremely effective at reducing seabird bycatch since they scare foraging birds away from the "danger zone" in which baited hooks are close to the surface and easily accessible. However, since BSLs have primarily been developed for and on large vessels, there is an urgent need to adapt them to the reality of small vessels and the fishing gear and conditions found on these. In South Africa our domestic longline fleets are largely under 35 m and while some skippers report successfully deploying BSLs on a regular basis, others have reported concerns relating to difficulties with deployments in bad weather conditions, entanglements with fishing gear, lack of high attachment points and unnecessarily cumbersome and bulky BSLs."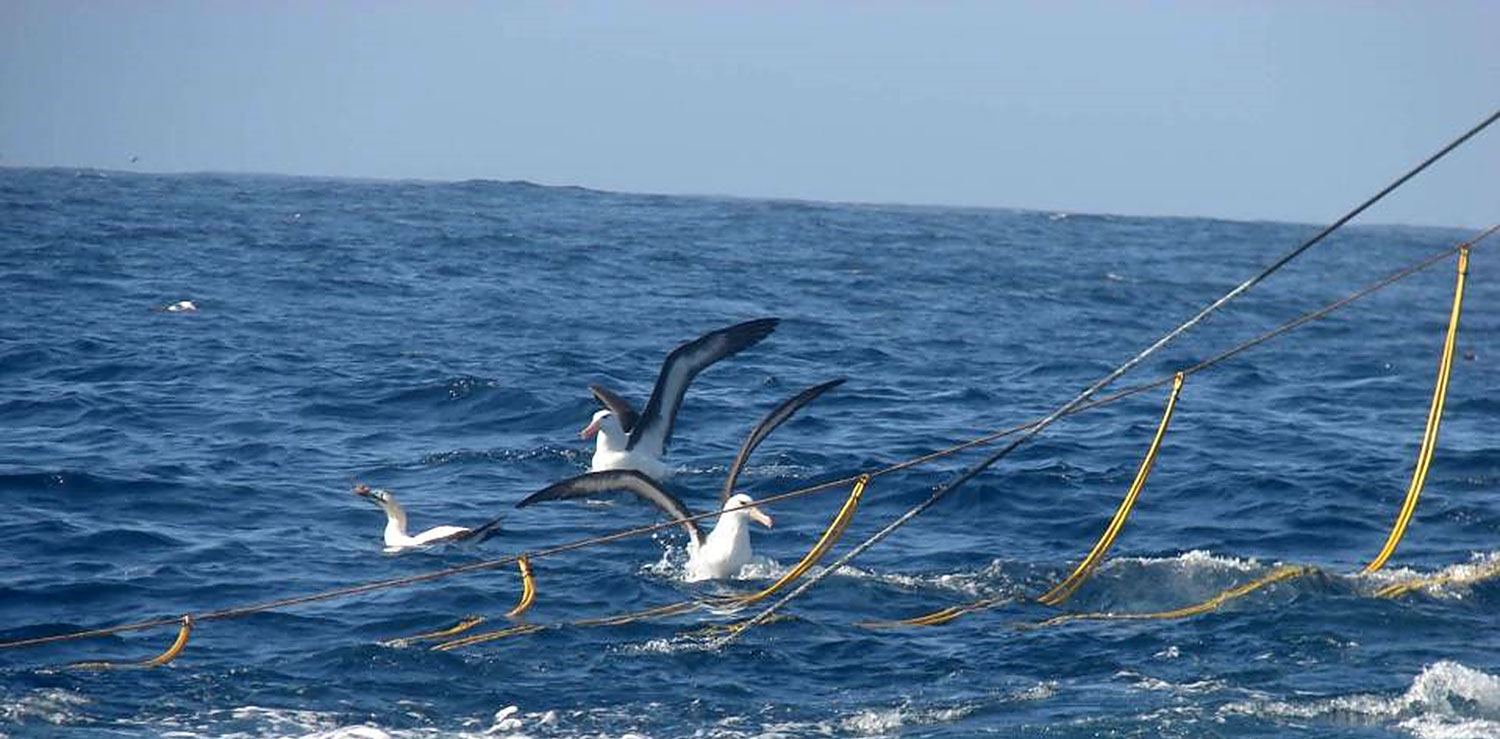 A South African bird-scaring line is deployed behind a demersal trawler, keeping two Black-browed Abatrosses (and a Cape Gannet) away from the warp
BirdLife South Africa's ATF has been working for over a decade with the Ocean View Association for Persons with Disabilities (OVAPD), which is based in the southern part of the Cape Peninsula near Cape Town, to manufacture BSLs of two different designs to keep birds away from demersal trawl cables and from longline fishing hooks on South Africa vessels. The partnership brings meaningful employment to a disadvantaged community (click here). OVAPD members will now be trained to manufacture the new design of BSLs, before they can be used commercially. Read earlier ALN postings on OVAPD here.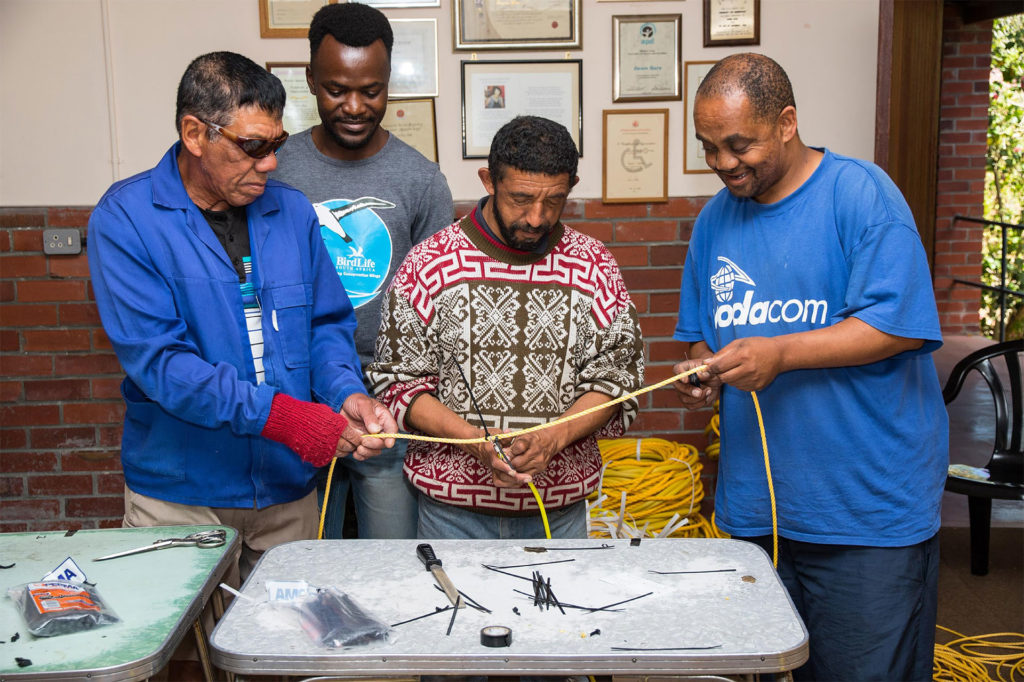 OVAPD members make a bird-scaring line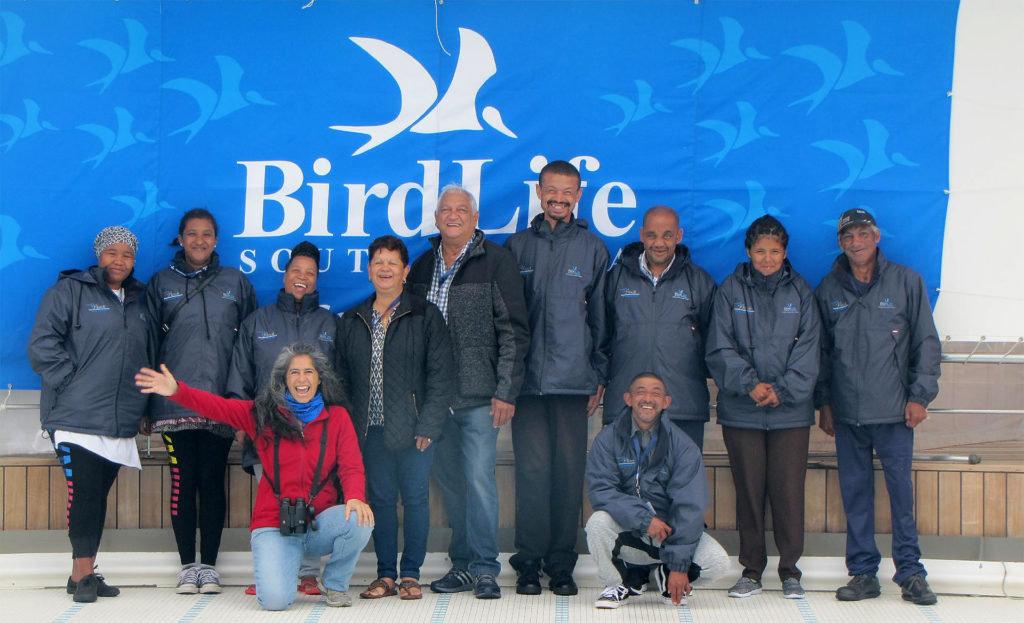 OVAPD members with Andrea Angel, Albatross Task Force Leader in South Africa (kneeling left)
Photographs from BirdLife South Africa's Albatross Task Force
BirdLife International and ACAP have co-produced a series of 15 Seabird Bycatch Mitigation Factsheets which describe the range of potential mitigation measures available to reduce seabird bycatch in longline and trawl fisheries, including different types of bird-scaring lines.
With thanks to Andrea Angel.
John Cooper, ACAP Information Officer, 27 May 2019