The Albatross and Petrel Agreement is holding its annual meetings in Brazil this year at Jurerê Internacional on the northern end of Santa Catarina Island in the municipality of Florianópolis. Last week was spent with meetings of the Population and Conservation Working Group (PaCSWG5) and the Seabird Bycatch Working Group (SBWG9). This week ACAP's Advisory Committee meets for the eleventh time (AC11), when, inter alia, it will hear and consider reports from the two working groups.
Over the intervening weekend delegates took time to read and comment on drafts of the two working group reports. Many also took the opportunity to explore their surroundings, including two sandy beaches excellent for bathers, walkers and runners alike (Praia de Jurerê and Praia do Forte) and an eighteenth century fortress, Fortaleza São José da Ponta Grossa, that overlooks the sea on a forested headland between the two beaches.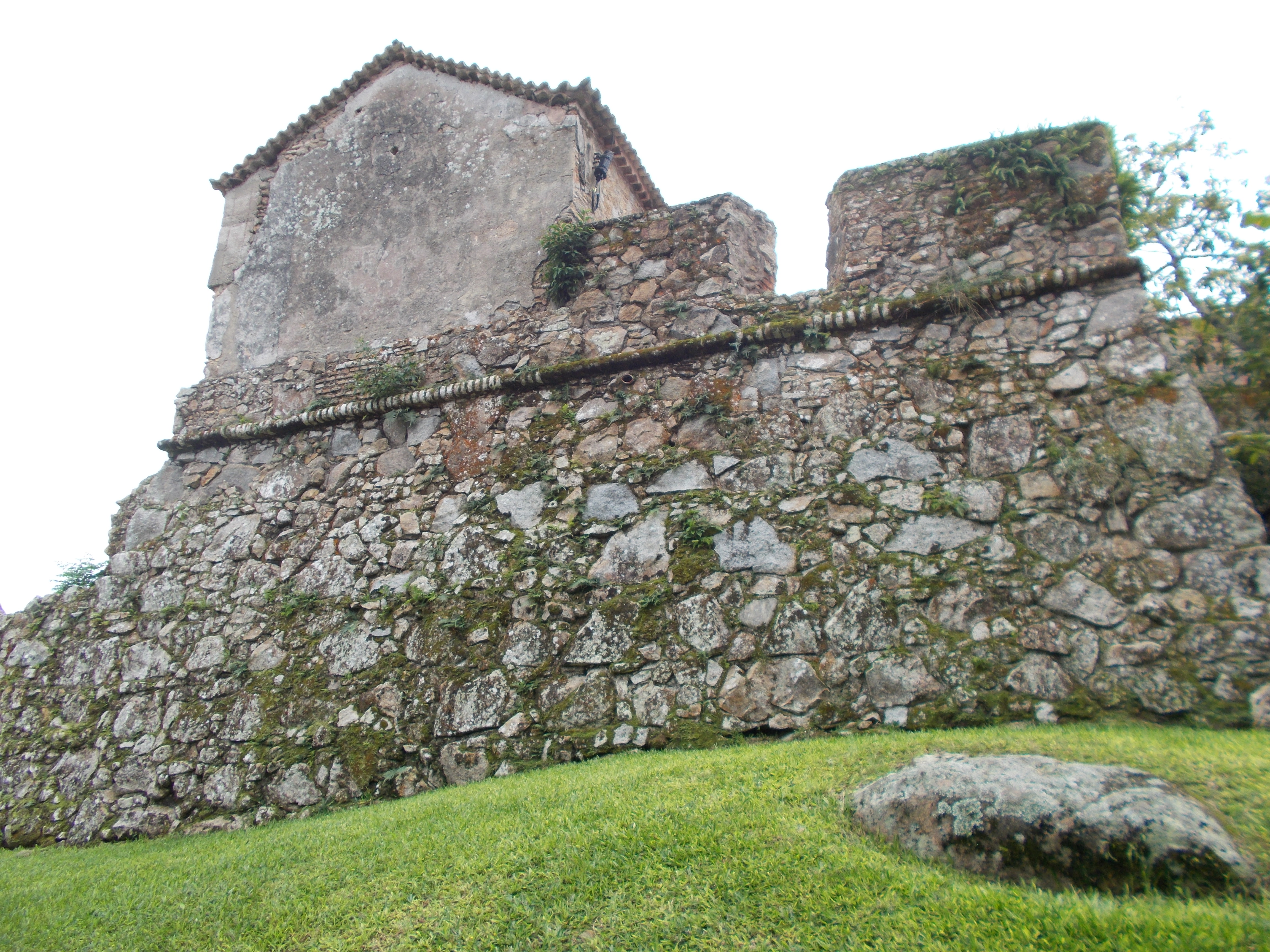 The back wall of the Fortaleza São José da Ponta Grossa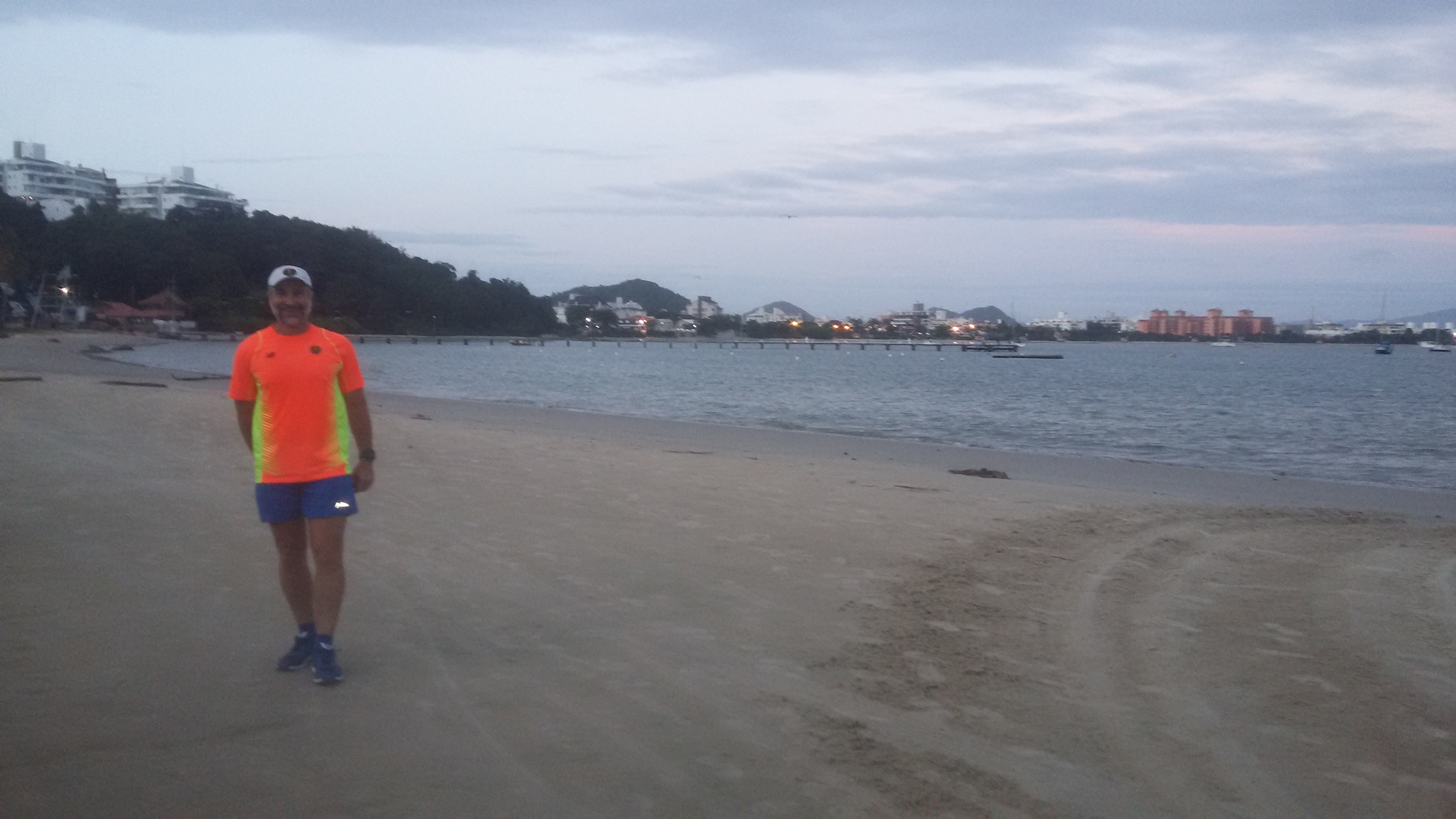 Half way through a dawn run on Praia de Jurerê Johan de Goede (South Africa) pauses for the camera
On Sunday, the meetings' Brazilian host (and a Vice-convenor of the PaCSWG) Patricia Pereira Serafini of the Instituto Chico Mendes de Conservação da Biodiversidade led an outing to the Lagoa da Conceição, a large lake in the island's interior. After a short drive some 20 of us took a water taxi and travelled north for 40 minutes or so along the lake's western boundary, past windsurfers out on the water to stop number 16 at a small village inacessible by road that is popular with tourists. Here we first visited a small waterfall on the lake's forested slope and then took lunch in a lake-side restaurant on grilled fillets of Bluefish or Anchova (in Brazil) Pomatomus saltatrix (also known as Shad or Elf in South Africa) along with chips and rice. The return journey on calm waters ended a most pleasant day, on which delegates could relax and regain their energies for the four days of discussion ahead.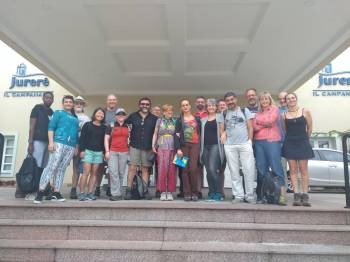 Sunday outing participants gather on the steps of the meeting hotel Il Campanario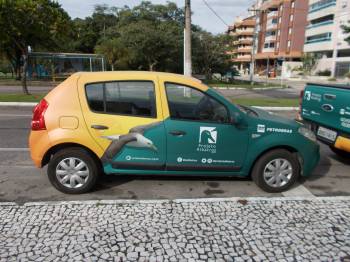 Fitting for some of us to travel in a Projeto Albatroz vehicle, decorated with a flying Black-browed Albatross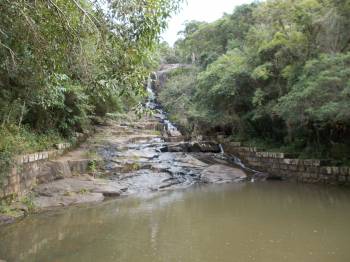 Not a big waterfall, but peaceful enough among the trees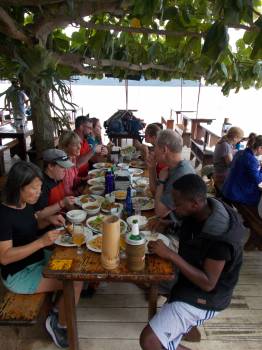 Tucking into a generous lunch: this table did not manage to empty all its dishes ...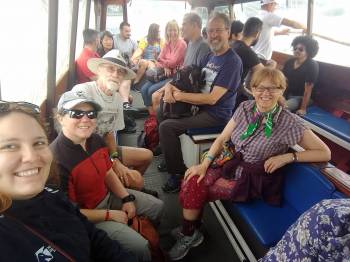 A post-prandial atmosphere in the water taxi on our return prevailed
Photographs by Jéssica Branco, Projeto Albatroz and John Cooper.
John Cooper, ACAP Information Officer, 13 May 2019