Terres australes antarctiques françaises (TAAF) submitted its nomination for the inscription of France's sub-Antarctic islands (Amsterdam, Crozets, Kerguelen and Saint-Paul) on the List of Natural Sites of UNESCO's World Heritage Convention (WHC) in February last year. The submission will be evaluated at the 43rd Session of the World Heritage Committee in Baku, Azerbaijan from 30 June to 10 July this year.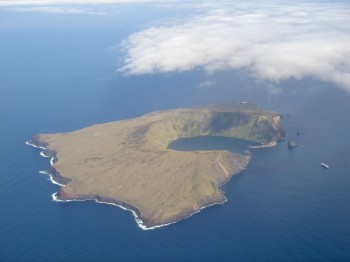 Saint-Paul: French territory in the southern Indian Ocean
A 25-page illustrated booklet "French Southern Lands and Seas, candidate 2019 for the inscription on UNESCO's World Heritage List" is now available in an English version translated from the original French text, as is a two-page brochure illustrating and summarising France's nomination (click here for both language versions).
The French islands were first listed on the convention's Tentative List in September 2016 (click here for the French text for the La Réserve naturelle nationale des Terres Australes Françaises).
If the French nomination is successful it will add the Endangered Amsterdam Albatross Diomedea amsterdamensis and Endangered Indian Yellow-nosed Albatross Thalassarche carteri to the list of ACAP species that breed within World Heritage sites. It will also leave only South Africa's Prince Edward Islands without World Heritage status in the southern Indian Ocean. Following the withdrawal of its nomination of the Prince Edwards following unfavourable evaluation by the International Union for Conservation of Nature (IUCN), South Africa then removed its sub-Antarctic islands from its Tentative List.
Read earlier postings in ACAP Latest News on France's nomination of its sub-Antarctic islands.
Click here for a global list of World Heritage sites that support ACAP-listed species.
John Cooper, ACAP Information Officer, 15 April 2019