On 28 January this year the environmental NGO Oikonos Ecosystem Knowledge handed over the text of the proposed Chilean National Plan for Recovery, Conservation, and Management (Propuesta Plan de Recuperación, Conservación y Gestión - RECOGE) for the globally Vulnerable and ACAP-listed Pink-footed Shearwater Ardenna creatopus to Carolina Schmidt, Chile's Minister of the Environment. The handover event took place in the Pink-footed Shearwater (PFSH) colony near the town of San Juan Bautista on Robinson Crusoe Island, Chile (click here).
Oikonos writes to ACAP Latest News:
"The RECOGE plan is the guiding document for species recovery in Chile (where PFSH are listed as Endangered), and the acceptance of the plan by the Ministry of the Environment was an important step toward creating official national policy. The final RECOGE document was created through a collective effort by many institutions. Institutions like the U.S. Geological Service, the National Fish and Wildlife Foundation (NFWF; USA), and Environment and Climate Change Canada have been fundamental allies in achieving these advances. Without their support and trust in our work, we would not have been able to advance to this point.
For Oikonos, this has been the work of many years, with major challenges, but always motivated by the possibility of national support for addressing threats meaningfully and improving the conservation status of PFSH. We are grateful for the confidence and trust of the Chilean government in allowing us to help craft, coordinate, and lead stages of this process."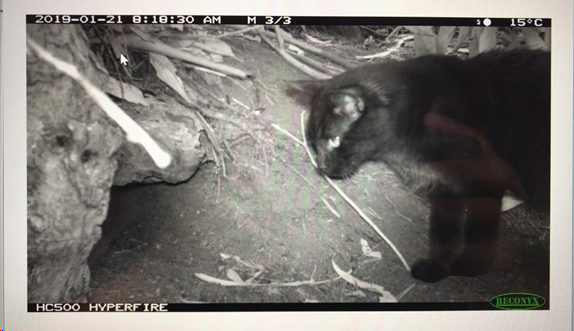 A feral cat inspects a Pink-footed Shearwater burrow on Robinson Crusoe Island, Chile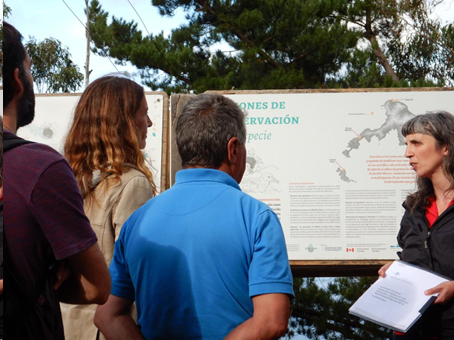 Oikonos Chile Program Director Valentina Colodro delivers the Pink-footed Shearwater RECOGE document to Carolina Schmidt, the Chilean Minister of the Environment
A special meeting to discuss the conservation of the Pink-footed Shearwater was held recently at the 46th Annual Meeting of the Pacific Seabird Group on the Hawaiian island of Kauai. ACAP Latest News plans to report on the meeting's outcomes.
With thanks to Verónica López, Pink-footed Shearwater Team, for information and photographs.
Reference:
Oikonos Ecosystem Knowledge 2019. Propuesta plan de recuperación, conservación y gestión de la fardela blanca (Ardenna creatopus). 31 pp.
John Cooper, ACAP Information Officer, 13 March 2019