New Zealand's Department of Conservation (DOC) is currently undertaking field work on sub-Antarctic Auckland Island this austral summer to inform the planned pest eradication project that aims to rid the island of its feral pigs and cats and House Mice. Field work is planned to continue into March (click here for an earlier posting on the planned field work).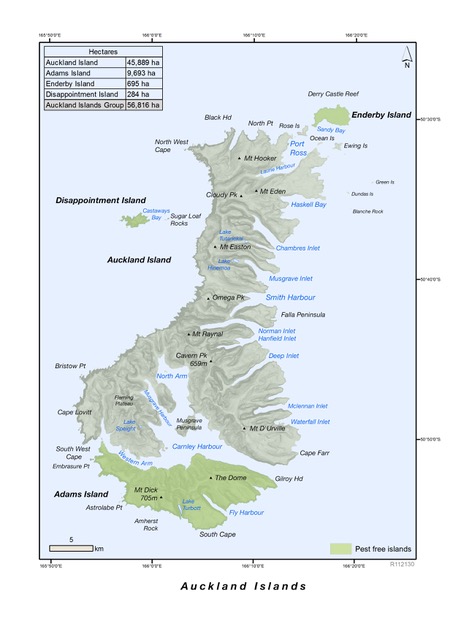 Over the 2018/19 summer, 40 field workers on the island have been conducting four main research programmes that have been designed to support and test various eradication methods. These are:
Infrastructure (pig-proof fencing, cutting tracks, hut installation)
Feral pigs (helicopter-borne thermal imaging to aid to aerial hunting; ground hunting with dogs, baited traps)
House Mice (non-toxic bait take up to inform minimum bait density for an aerial poison drop in summer)
Feral cats (live-capture and leg-hold trapping, GPS collars to track movements, tracking with dogs)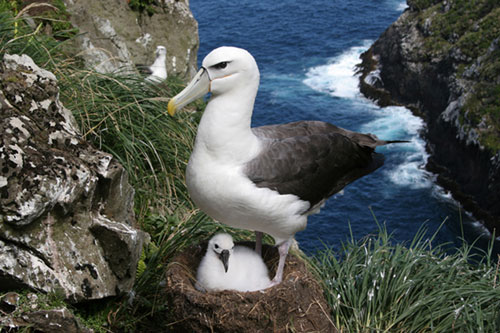 White-capped Albatrosses on Auckland Island are at risk to pigs, photograph by David Thompson
"On top of these four programs this summer, the team is also installing a suite of biodiversity monitoring tools to measure the impact of the three predators on the island and to estimate the potential benefits of their removal. A dedicated team of GIS experts are using high definition satellite imagery and drones to help plan the infrastructure programme from the comfort of their office. Teams of experts are looking at developing new control methods, for example a cat targeted toxin which could be distributed by air, something that we don't currently have in New Zealand."
Read more details of the current field work here.
John Cooper, ACAP Information Officer, 21 February 2019