On 8 October 2010 a globally Endangered (and Nationally Critical) Antipodean Albatross Diomedea antipodensis of the subspecies gibsoni carrying identifying band Orange 512 was spotted at sea off Kaikoura on New Zealand's South Island entangled with "her legs caught in hundreds of metres of multi-strand poly-nylon fishing line". The bird was caught, the line removed and the bird was then released back to sea by Albatross Encounter Kaikoura skipper and guide, Gary Melville (click here).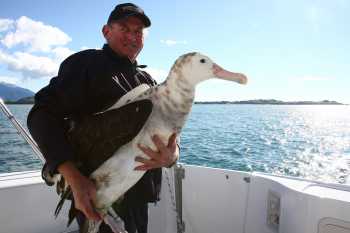 Gary Melville releases Orange 512 after it had been disentangled in 2010
Orange 512 was first seen off Kaikoura as a three-year old in December 1998. It was banded as a chick close to fledging in the Mount Dick colony on Adams Island, Auckland Islands group on 24 December 1996 by Graeme Taylor and Kath Walker. The bird has been spotted before and after the entanglement incident many times making it a regular visitor to Kaikoura (click here).
The latest news, posted earlier this month comes from the Albatross Encounter Kaikoura Facebook page:
"It has been great to see Orange 512 over the past few days. This female Gibson's albatross is 24 years old. She is one of our regulars and like family to us! First sighted by us when she was 3, she is one of our most frequently sighted banded birds here in Kaikoura!"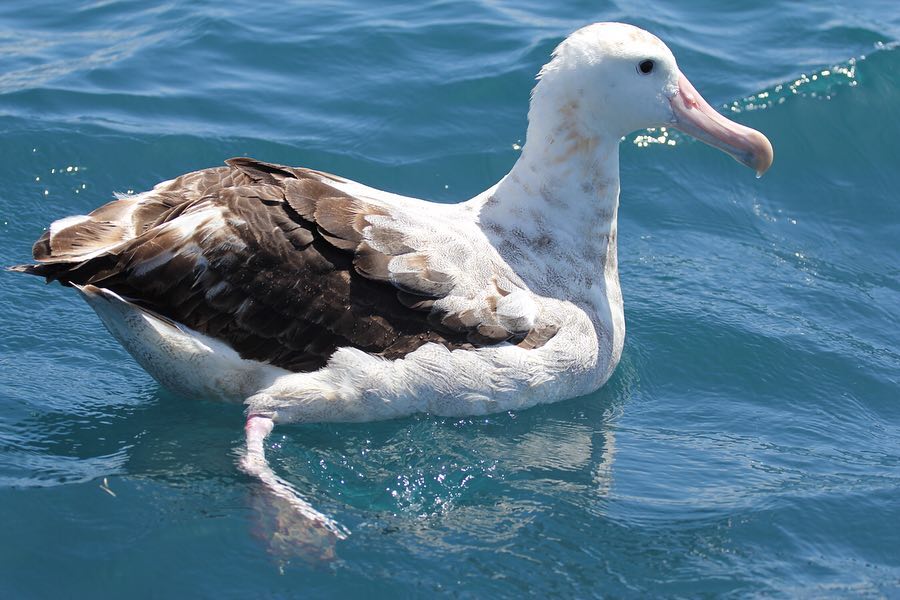 Orange 512 in early 2019, photograph from Albatross Encounter Kaikoura
Nice to see an ageing lady doing well.
John Cooper, ACAP Information Officer, 28 February 2019