ACAP Latest News has reported more than once on the translocation of eggs of the Laysan Albatross Phoebastria immutabilis (Near Threatened) from the Pacific Missile Range Facility Barking Sands (PFMR) on the Hawaiian island of Kauai, that has been conducted over the last 12 breeding seasons. The eggs are removed as part of an effort to halt recruitment to the locality to reduce the chances of bird strikes with aeroplanes (click here).
In the current 2018/2019 season, PMRF natural resources workers and partners have recorded about 65 occupied nests, down from a high of c. 80 over the last 15 years. So far this season 67 eggs have been collected. Of these, 27 fertile eggs were taken to Oahu to replace infertile eggs in the Laysan Albatross population within the Kaena Point Natural Area Reserve, following 21 eggs translocated to that colony for the same purpose in the previous season (click here).
A further 16 eggs were placed with foster parents that had infertile eggs within fenced private properties along Kauai's North Shore (click here). Three eggs are being kept in a PMRF incubator awaiting an opportunity for translocation. The remaining 21 PMRF eggs were found to be infertile following candling.
In addition three adult birds were captured within the PMRF and relocated to the North Shore the same day.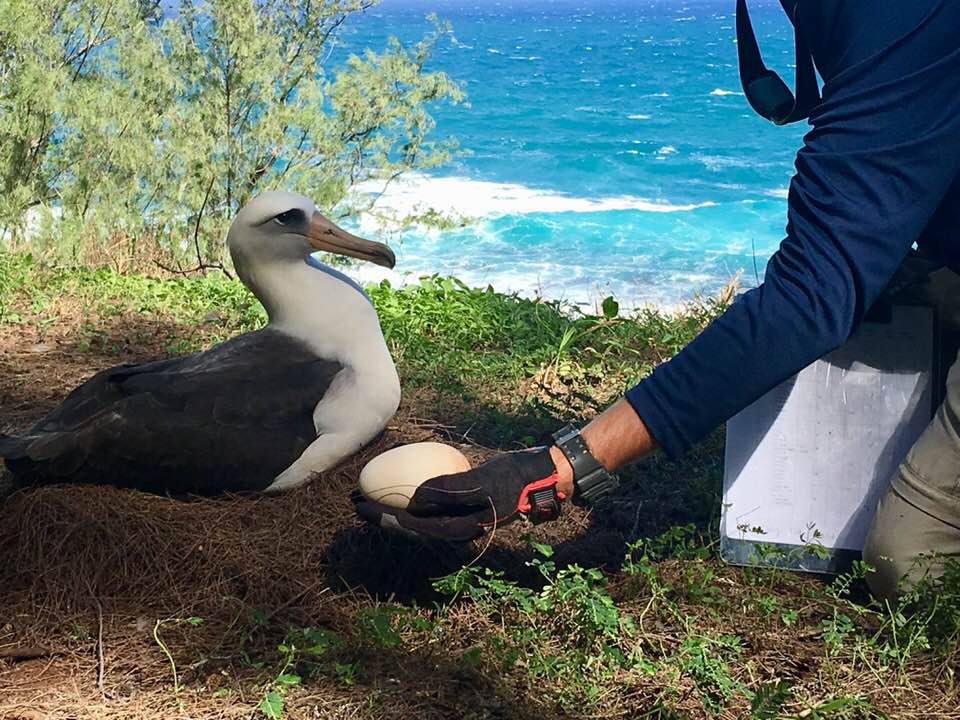 A Kauai Laysan Albatross gets a fertile egg, photograph by Hob Osterlund
Read more here.
Partners in the project include PMRF Natural Resources, Pacific Rim Conservation, Kauai Albatross Network, U.S. Fish and Wildlife Service and the Hawaii Department of Land and Natural Resources Division of Forestry and Wildlife.
John Cooper, ACAP Information Officer, 18 January 2019