Globally Near Threatened Laysan Albatrosses Phoebastria immutabilis have been reported breeding this season in the north-eastern corner of the Hawaiian Island of Oahu at Kahuku Point. In response the NGO "non-profit" Hawaii Marine Animal Response (HMAR) has called for volunteers to undertake training to act as monitors and protectors for these birds. HMAR's mission is "to undertake substantial actions that result in the preservation, recovery and stewardship of Hawaii's protected marine species and the ecosystem we share". According to Sheldon Plentovich of the USFWS Coastal Program Laysan Albatrosses have been attempting to nest in the area for at least five years, but the habitat has not been suitable, primarily due to a high density of predators. Previously, some eggs have been removed for fostering purposes. It is not thought any eggs laid in the past have reached hatching.
Further information comes from an early December Facebook post by another Oahu "non-profit", the North Shore Community Land Trust:
"It is mōlī (Laysan albatross) nesting season and we are excited to share that there are currently six potentially viable nests along the North Coast of Oʻahu from Kalaeokaunaoʻa (Kahuku Point) to James Campbell. These amazing birds have decided that they think this area makes for a nice colony and we will be doing everything we can to give the nests a fighting chance. This will not be easy and we will need help so please stay tuned for volunteer opportunities. Predator controls [traps for feral cats and introduced Indian Mongooses Herpestes javanicus set prior to the birds' arrival] have been in place for the past month and we are escalating these efforts in response to the new nests. We ask that if you are in the area you enjoy these birds from afar and always keep your dogs on leashes."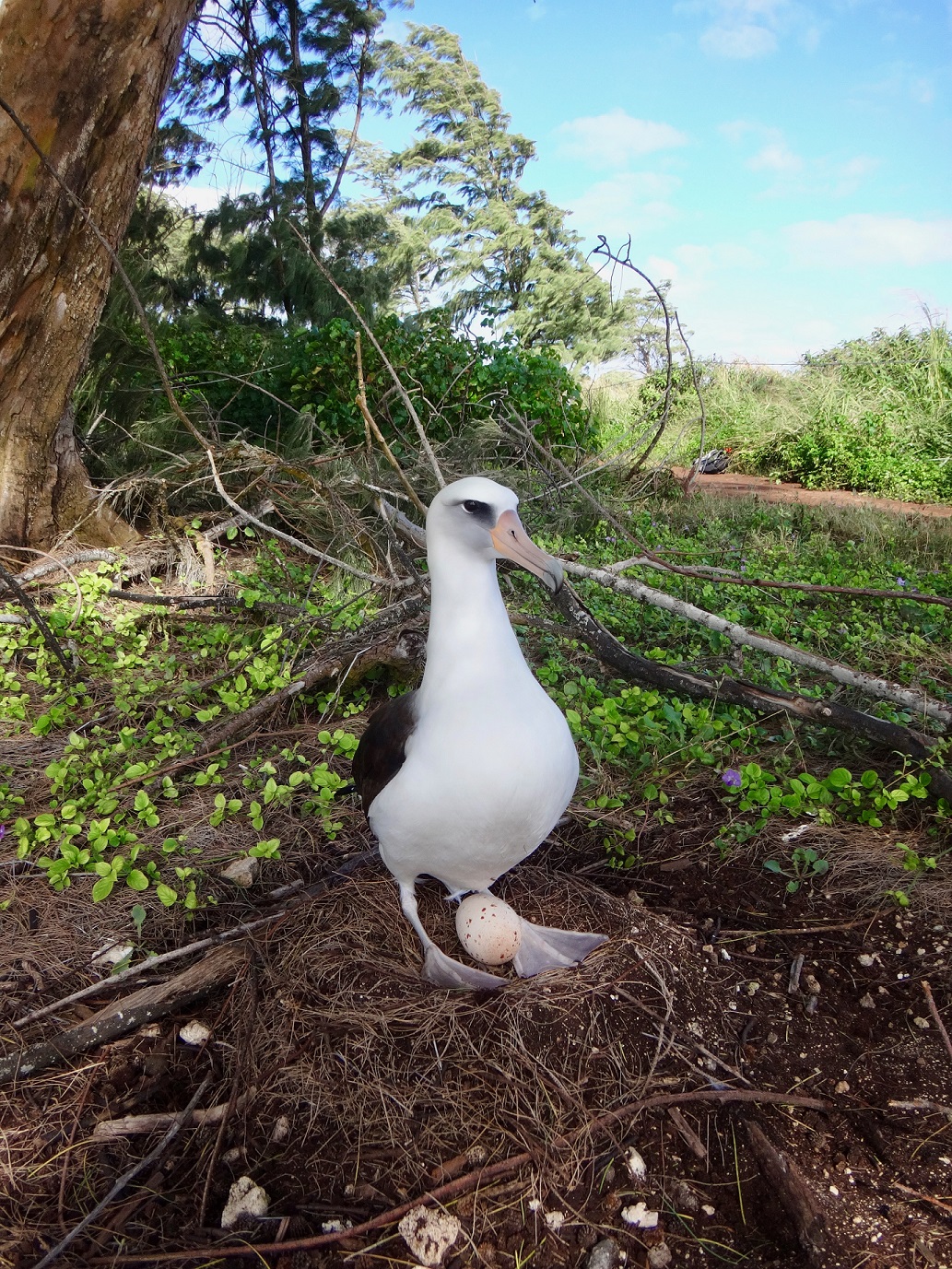 A Laysan Albatross stands over its egg on Oahu's North Shore at Kahuku Point, photograph by Sheldon Plentovich
The trust through its Kahuku Point Restoration Project has been removing Casuarina trees, weeding out alien plants and planting out natives in the sand dune ecosystem at Kahuku Point (the northernmost point of Oahu and considered to be both culturally and ecologically significant), inter alia to improve breeding habitat for the albatrosses. The birds' exact breeding sites, all falling within private properties, are not being made public in an effort to reduce human disturbance. Posts connected by ropes and "do not disturb" signs have been placed near the nests which are all being monitored by trail cameras. Sheldon writes to ACAP Latest News: "we plan to continue predator control and ultimately have a predator-proof fence if the community supports it". She also reports that most of the birds are banded; the two that are not are scheduled for banding only after hatching to reduce disturbance during incubation.
Laysan Albatrosses currently breed at three localities on Oahu where they are protected against predators by various types of fencing. These are the Kaena Point Natural Area Reserve, the Kuaokala Game Management Area and the close-by James Campbell National Wildlife Reserve, approximately 1.5 km away from Kahuku Point.
The NGO Pacific Rim Conservation has been attempting to create a new colony within the James Campbell NWR by translocating and hand-rearing both Laysan and Black-footed P. nigripes Albatross chicks (click here). A "wild" Laysan pair first attempted breeding within this refuge in 2017/18 (click here). A Laysan Albatross pair is currently breeding once more within the James Campbell NWR this season, with one other nest having failed, according to Sheldon.
View a recent video clip on the Kahuku Point birds.
ACAP Latest News will endeavour to follow the fortunes of the Kahuku Point birds as the 2018/19 breeding season progresses.
With thanks to Sheldon Plentovich, United States Fish & Wildlife Survey Coastal Program for information and photographs.
John Cooper, ACAP Information Officer, 10 January 2019