New Zealand's Department of Conservation (DOC) is undertaking field work at the Auckland Islands this austral summer to inform the planned pest eradication project that aims to rid the main island in the group of its feral pigs and cats and House Mice – and thus free the whole island group of introduced mammals.
Carnely Harbour in the south of Auckland Island
This year teams will be going to the island to look at where infrastructure sites can be set up for the eradication exercise, and to catch and tag cats so as to monitor and track their behaviour so as to "inform how we might go about removing them in the future." Further, in early January next year a team will use a helicopter equipped with thermal imaging technology to see how they could track the pigs. Pig hunters will then try to eradicate pigs in a 56-ha area on Falla Peninsula that will later be used to monitor mice. In the same month a team will then carry out mice monitoring using non-toxic bait with a fluorescent marker and yet another team will check the cat monitoring. It is hoped the monitoring data will be collected by March so a business case can be completed by mid-2019.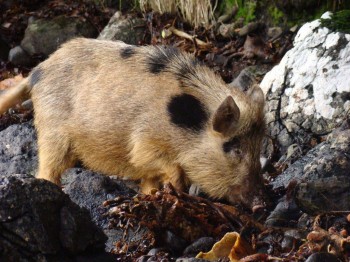 A feral pig on Auckland Island
DOC also reports that the New Zealand Government has contributed NZ$ two million for the initial scoping work, and that the total eradication cost could rise to NZ$ 40-50 million over a 10-year period.
The main Auckland Island was rid of its feral goats in 1992 and Enderby Island, in the group no longer has feral cattle, European Rabbits or House Mice following eradication exercises.
Read more here.
John Cooper, ACAP Information Officer, 11 December 2018