A cooperative arrangement to produce a joint Action Plan for the nominate subspecies of the globally Endangered and Nationally Critical Antipodean Albatross Diomedea antipodensis was signed last month by New Zealand's Foreign Affairs Minister Winston Peters, on behalf of Conservation Minister Eugenie Sage and Fisheries Minister Stuart Nash, and the Chilean Minister of Foreign Affairs, Roberto Ampuero, who was then visiting New Zealand alongside President Sebastián Piñera. The new agreement establishes a cooperative partnership between the Department of Conservation (DOC) and the Ministry for Primary Industries (MPI) in New Zealand, and Chile's Undersecretariat for Fisheries and Aquaculture (SUBPESCA) and its Ministry of the Environment.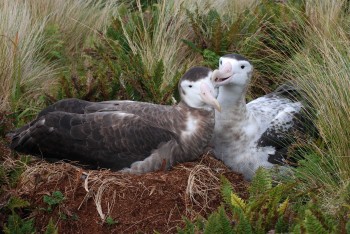 A pair of Antipodean Albatrosses at their nest on Antipodes Island, photograph by Erica Sommer
Nathan Walker, ACAP's Advisory Committee Chair, writes to ACAP Latest News:
"The Action Plan is intended to address the need identified by ACAP's Advisory Committee at its Ninth Meeting held in Chile in 2016 to develop "a list of actions that identify priority research and conservation activities for each of the high priority populations, and report to each Advisory Committee meeting on progress in implementing those activities" (AC9.9.1.3 (viii)). At its 10th Meeting held in New Zealand in 2017 the Advisory Committee endorsed the inclusion of Antipodean Albatrosses breeding on Antipodes Island [the nominate subspecies] as an ACAP Priority Population for conservation management (AC10.11 1.4 (iii))".
A New Zealand press release states "central to the arrangement is establishing a Plan of Action for the conservation of Antipodean albatross, which like many other New Zealand endemic seabirds, breeds in New Zealand and forages in waters off Chile in the non-breeding season [click here]. The biggest threat to these seabirds comes from fishing in the international waters between the two countries, particularly as bycatch in surface longline fisheries. An important component of the arrangement will be increased cooperation through Regional Fisheries Management Organisations, which govern fishing on the high seas."
The ACAP Advisory Committee next meets in Brazil in May 2019 (click here), when it may expect to hear of developments with the new bilateral agreement for the nominate subspecies of the Antipodean Albatross.
John Cooper, ACAP Information Officer, 10 December 2018