The United Kingdom's Royal Society for the Protection of Birds (RSPB) is seeking an experienced Programme Manager for the Gough Island Restoration Programme.
Gough Island in the South Atlantic, part of the UK Overseas Territory of St Helena, Ascension and Tristan da Cunha, forms part of a World Heritage Site, and is considered one of the most important seabird islands in the world, inter alia supporting five species of ACAP-listed albatrosses and petrels, including the near-endemic and Critically Endangered Tristan Albatross Diomedea dabbenena.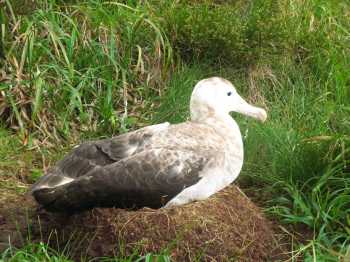 A female Tristan Albatross incubates on Gough Island, photograph by Marienne de Villiers
The major threat to Gough's biodiversity is the presence of introduced House Mice Mus musculus that prey upon the chicks of threatened species, including the island's three albatross species. All of Gough's seabirds, and especially those breeding in the winter, are vulnerable to mouse predation, and low breeding success means that most breeding seabird populations are declining, which has a negative impact on the site's importance and value.
Working in partnership with the Tristan da Cunha Island Council, BirdLife South Africa, Island Conservation, and the Department of Environmental Affairs in South Africa, the RSPB is now planning for the implementation of a mouse eradication operation on Gough Island in the Southern Hemisphere winter of 2020.
About the role
"This is an exciting opportunity for a person experienced in the management of large-scale, complex projects. The Programme Manager will work closely with others in the team to ensure work across the many strands of this complex project stays on track. This will involve managing and developing partnerships with our many stakeholders, from the remote community on Tristan da Cunha, to key organisations and individuals in South Africa and the UK. He/she will build on the planning work already carried out and will work with suppliers and operators from New Zealand, South Africa, the UK and the USA as well as our partners on Tristan da Cunha. He/she will implement and refine the Gough Island Programme Plan, in agreement with the programme team".
The closing date for applications is 7 December 2018 for this full-time three-year contract position.
Read more here.
John Cooper, ACAP Information Officer, 29 November 2018