A Memorandum of Understanding (MoU) has been signed in Hobart, Australia on 26 November between the ACAP Secretariat and the Meeting of the Parties (MoP) to the Southern Indian Ocean Fisheries Agreement (SIOFA).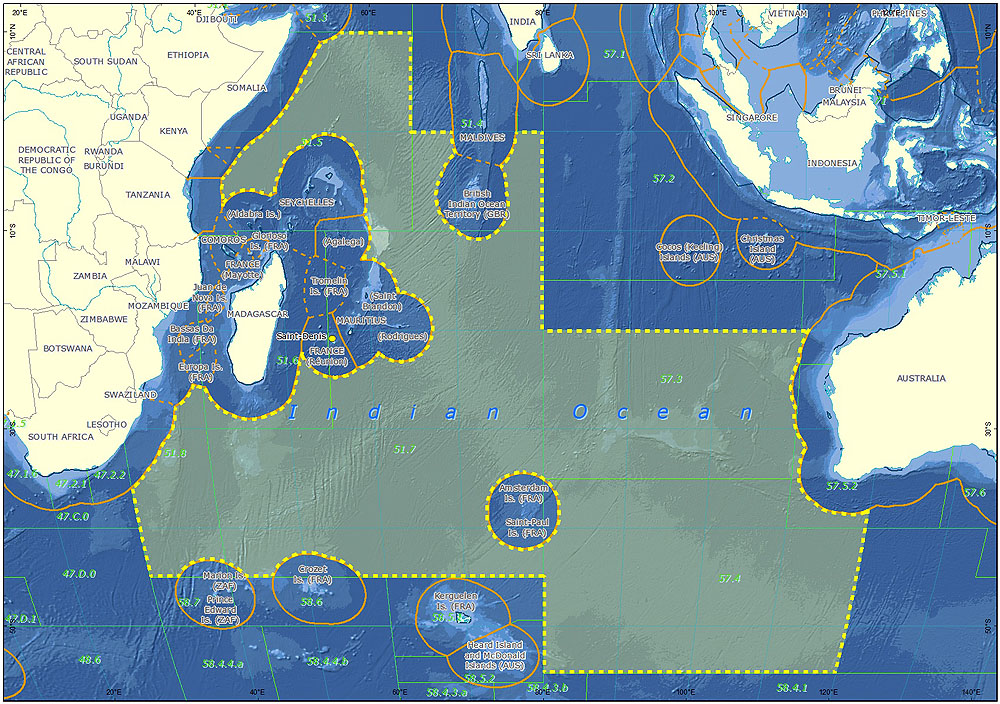 High-seas Area of the Southern Indian Ocean Fisheries Agreement
The objectives of SIOFA are to ensure the long-term conservation and sustainable use of the fishery resources in the area and to promote the sustainable development of fisheries. The fisheries Agreement currently has nine Parties. Signatories to SIOFA include ACAP Parties Australia, France and New Zealand, as well as the European Union. SIOFA, which entered into force in 2012, has its headquarters in La Réunion, France in the Indian Ocean.
The MoU with SIOFA has as its objective the facilitation of efforts to minimise the incidental by-catch of albatrosses and petrels listed in Annex 1 of ACAP that occur within the Area to which SIOFA applies. Areas of cooperation listed in the MoU are:
development of systems for collecting and analysing data, and exchanging information concerning the bycatch of albatrosses and petrels in the Area consistent with the information-sharing policies of each Participant;
exchange of information regarding management approaches relevant to the conservation of albatrosses and petrels;
implementation of education and awareness programmes for fishers who operate in areas where albatrosses and petrels may be encountered;
design, testing and implementation of albatross and petrel bycatch mitigation measures relevant to fishing operations in the Area;
development of training programmes on conservation techniques and measures to mitigate threats affecting albatrosses and petrels; and
exchange of expertise, techniques and knowledge relevant to the conservation of albatrosses and petrels in the Area and reciprocal participation with observer status at the relevant meetings of ACAP and the SIOFA MoP, including its subsidiary bodies.
The new MoU, which is set to be in place for six years, joins ten other MoUs ACAP has signed with Regional Fisheries Management Organizations (RFMOs) and other international bodies, most recently with the Commission for the Conservation of Antarctic Marine Living Resources (CCAMLR) (click here).
With ACAP's third Executive Secretary, Christine Bogle, in office from this week, the MoU with SIOFA is the last to be signed (with Kristofer Du Rietz, SIOFA Chairperson) by the outgoing Executive Secretary, Marco Favero.
John Cooper, ACAP Information Officer, 04 December 2018