The last rehabilitated Newell's Shearwater or ʻAʻo Puffinus newelli carrying a back-mounted satellite tag was released to sea from the Hawaiian island of Kauai on 18 October. The release represents the culmination of a project started in 2014 by the Kaua'i Endangered Seabird Recovery Project, the Save our Shearwaters (SOS) programme of the Kauai Humane Society and the U.S. Geological Survey that has resulted in 53 Newell's Shearwaters being tagged since then. There are currently nine globally Endangered Newell's Shearwaters transmitting their locations back to the tagging project. The goal of the project is to compare birds that have been grounded by light pollution on the island and subsequently rehabilitated against wild-tagged 'controls'.
Most of the tagged fledglings this year came from the rugged mountains of the Upper Limahuli Preserve on Kauai. Following tagging within the preserve chicks were returned to their burrows to fledge naturally. Three, including the very last one tagged, were "fallout" fledglings that had first been rehabilitated by Save our Shearwaters. However, over the five years of the project most of the birds satellite-tagged (38) were SOS "rehabs". Except for four adults, all those tagged were chicks or fledglings. To date, the longest transmission period recorded is 111 days, with tagged birds recorded flying thousands of kilometres to the south-west of Kauai.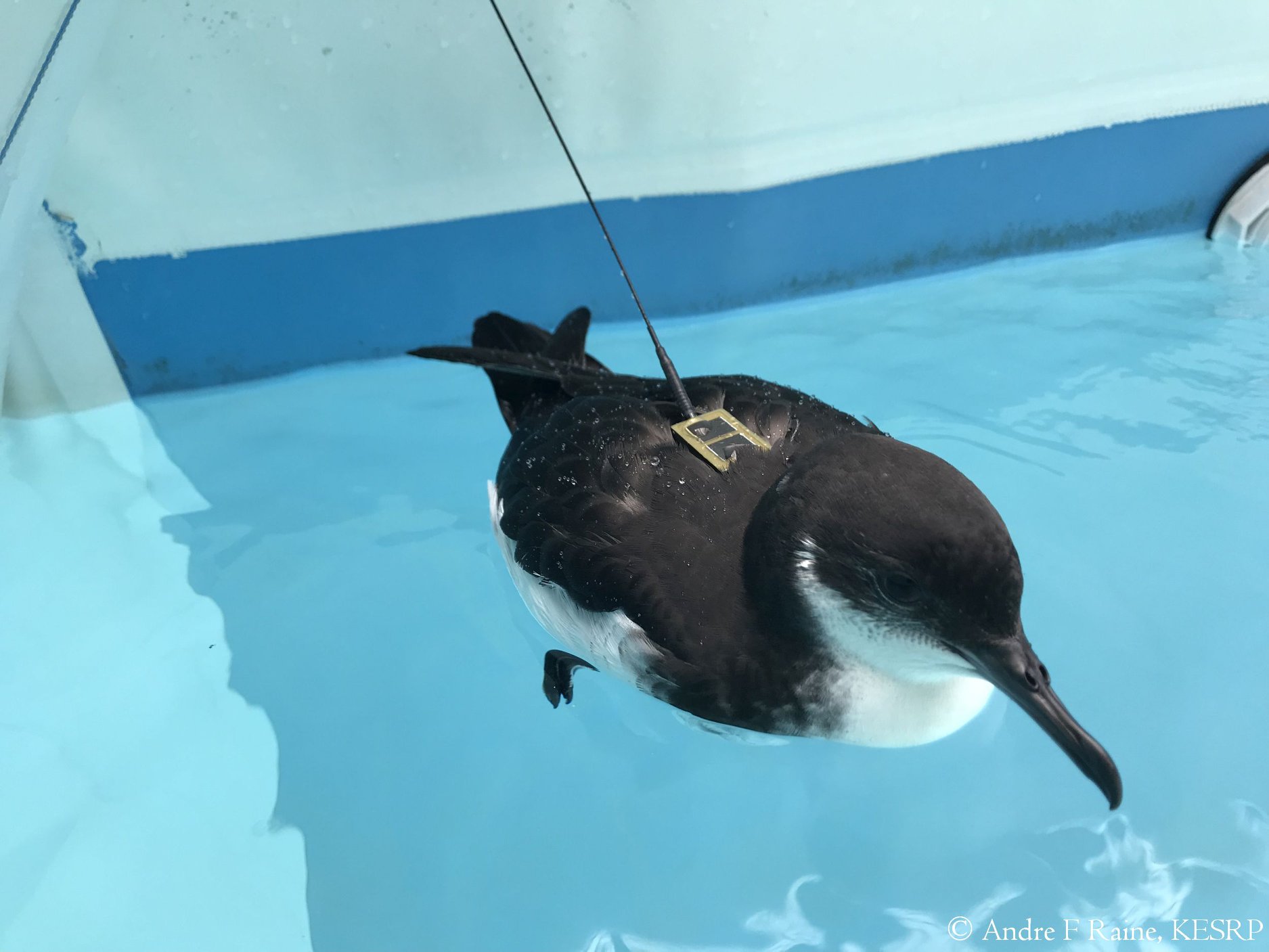 A Newell's Shearwater fledgling undergoing rehabilitation is ready for release, with its back-mounted satellite tag in place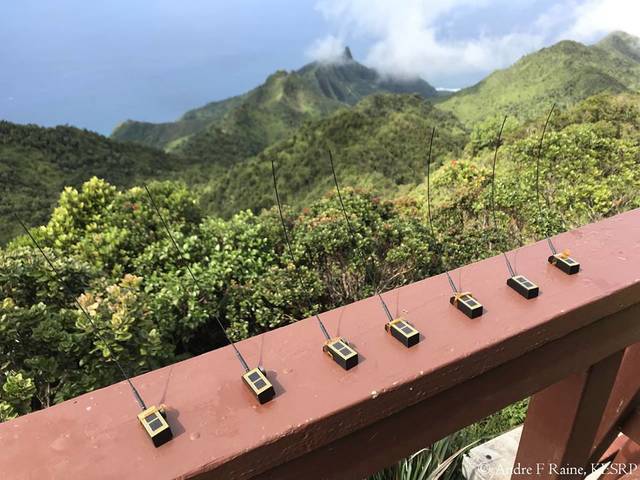 Satellite tags ready for deployment in the Upper Limahuli Preserve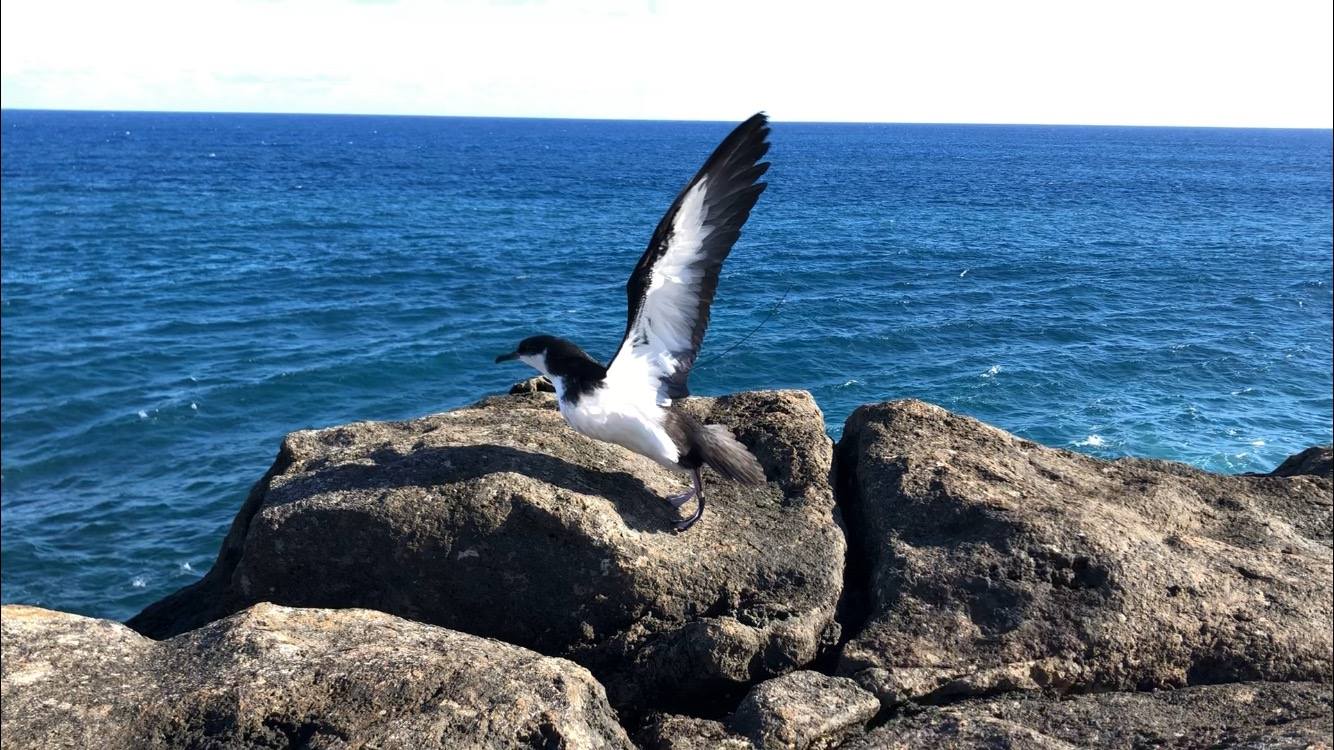 Last of 53! A rehabilitated Newell's Shearwater fledgling gets released on Kauai's shore. Note the tag's aerial projecting from the bird's back
André Raine, Kaua'i Endangered Seabird Recovery Project, writes to ACAP Latest News: "we are planning to publish the results after the final transmissions of this season. This year represents the final cap to the project, so afterwards we can analyse and publish."
The tagging project has been funded by the St Regis Princeville Resort on Kauai (via Earthjustice and the American Bird Conservancy) and the Kauai Island Utility Cooperative.
Read more here.
With thanks to André Raine and the KESRP and SOS Facebook pages for information and photographs.
John Cooper, ACAP Information Officer, 06 November 2018