Hannahrose Nevins (American Bird Conservancy, Santa Cruz, California, USA) and colleagues have published online in the open-access journal Marine Ornithology on Laysan Phoebastria immutabilis and Black-footed P. nigripes Albatrosses caught by Alaskan and Hawaiian longline fisheries.
The paper's abstract in English and Spanish follows:
"In fisheries, incidental bycatch of non-target species, including seabirds, is the result of complex interactions between species and fishing effort. While understanding the magnitude of bycatch is essential to understanding its impact on incidentally caught species, a full characterization requires describing the demographic composition of bycatch and formulating effective mitigation responses. We characterized the body condition, sex, and reproductive maturity of Laysan Albatross Phoebastria immutabilis and Black-footed Albatross P. nigripes collected by fishery observers in the US Alaskan groundfish and halibut fisheries (n = 129: 83 Laysan, 46 Black-footed; 2006-2014) and the US Hawaiian longline fisheries (n = 529: 206 Laysan, 323 Black-footed; 2010-2016). Across species and regions, there was a highly significant bias toward bycatch of sexually mature birds, and most birds were in good body condition. Whereas bycatch in the Alaska region was significantly male-biased for both species, bycatch in the Hawai'i region was slightly male-biased for Laysan Albatross and moderately female-biased for Black-footed Albatross. Overall, assessment of bycatch demographics across species, regions, and seasons provides valuable information for managers and modelers who assess the impacts of bycatch on wildlife populations."
"En la pesca, la captura incidental (o bycatch) de especies no objetivo, incluidas aves marinas, es el resultado de interacciones complejas entre las especies y el esfuerzo pesquero. Si bien la comprensión de la magnitud de la captura incidental es esencial para comprender su impacto en las especies capturadas incidentalmente, una caracterización completa requiere describir la composición demográfica de la captura incidental y formular respuestas efectivas de mitigación. Caracterizamos la composición corporal, el sexo y la madurez reproductiva del Albatros de Laysan Phoebastria immutabilis y el Albatros de Patas negras P. nigripes recolectados por observadores científicos en dos pesquerías de EE.UU: las pesquerías de peces de fondo y Halibut de Alaska (n = 129: 83 Laysan, 46 Patas negras; 2006-2014) y las pesquerías de palangre en Hawái (n = 529: 206 Laysan, 323 Patas negras; 2010-2016). Para las dos especies y regiones estudiadas, se verifico un sesgo altamente significativo por la captura de aves sexualmente maduras, y en buenas condiciones corporales. A pesar que el bycatch en la región de Alaska evidenció un elevado sesgo hacia machos en ambas especies, las de Hawái fueron ligeramente sesgadas hacia machos en los Laysan y moderadamente sesgadas hacia hembras en los de Patas negras. En general, la evaluación de la demografía de la captura incidental a través de especies, regiones y estaciones proporciona información valiosa para los administradores de pesquerías y los modeladores que evalúan los impactos de la captura incidental en las poblaciones de vida silvestre."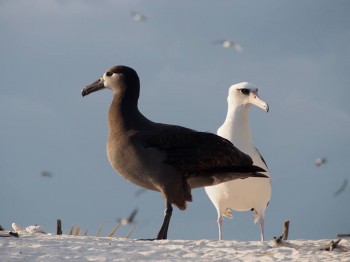 A Black-footed and a Laysan Albatross, photograph from the Kure Atoll Conservancy
Reference:
Nevins, H.M., Beck, J., Michael, P.E./ Hester, M., Peschon, J., Donnelly-Greenan, E. & Fitzgerald, S. 2018. Demographics of Laysan Phoebastria immutabilis and Black-footed P. nigripes Albatross caught as bycatch in Alaskan groundfish and Hawaiian longline fisheries. Marine Ornithology 46: 187-196.
John Cooper, ACAP Information Officer, 02 November 2018