The 14th Regular Session of the Scientific Committee of the Western and Central Pacific Ocean Fisheries Commission (WCPFC-SC14) was held in Busan, South Korea, from 08-16 August 2018.
The Albatross and Petrel Agreement was represented by Anton Wolfaardt, Co-convenor of its Seabird Bycatch Working Group (SBWG). Igor Debski, the other Co-convenor of ACAP's SBWG, was also in attendance as part of the New Zealand Delegation. The meeting considered a number of seabird-related papers, three of which were submitted and presented by ACAP. These were ACAP's latest best-practice advice for mitigating seabird bycatch in pelagic longline fisheries (EB-WP-13), a report on work underway to develop ACAP indicators for seabird bycatch (EB-WP-15), and an update on the conservation status and priorities for albatrosses and large petrels distributed in the WCPFC area (EB-WP-14). Abstracts and full texts of these three papers are available on line.
Two seabird-related papers were presented by New Zealand colleagues, one of which reviewed the effectiveness of Hookpods at reducing seabird bycatch (EB-WP-10) and the other provided an update on bycatch risks to New Zealand seabirds in the Western Pacific, with a particular focus on the globally Endangered Antipodean Albatross Diomedea antipodensis, a New Zealand endemic (EB-WP-11). In addition, the meeting discussed two papers presenting preliminary results of seabird-fisheries risk assessment processes that are currently underway (EP-WP-03 and EP-WP-09).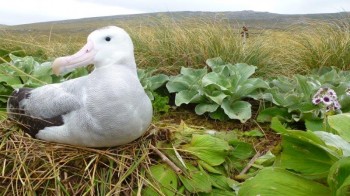 Antipodean Albatross on Adams Island, Auckland Group, photograph by Colin O'Donnell
On the basis of the papers presented and discussed, the WCPFC-SC14 adopted two recommendations in respect of seabirds. WCPFC-SC14 recommended that due to new information on the distribution of Antipodean Albatrosses, which shows that they forage up to and north of 25°S, the Technical and Compliance Committee (TCC) and the Commission of the WCPFC consider revising the southern area of application of its seabird conservation measure (CMM2017-06; which currently extends to 30°S) up to 25°S. The second recommendation is that CMM 2017-06 is revised to add the use of hook-shielding devices, specifically Hookpods, as an optional stand-alone seabird bycatch mitigation measure to provide more choices and greater flexibility to the fishing industry to mitigate seabird bycatch in their fishing operations. These recommendations will be considered by WCPFC's TCC and Commission later this year.
Click here to access all the meeting's documents and the draft Summary Report.
Anton Wolfaardt, Co-convenor, ACAP Seabird Bycatch Working Group, 05 October 2018