Dunedin's bells rang today to mark the first globally Endangered Northern Royal Albatross Diomedea sanfordi to return for the spring breeding season at Taiaroa Head, New Zealand's only mainland albatross colony (click here).
"As well as the traditional bells a "Welcome back" flag will fly outside the Mayors' office and fans are setting bell chimes on their mobile phones to ring at 1 pm. Dunedin hosts the world's only mainland Royal Albatross breeding colony which is a source of great pride and a symbol of the city – the Wildlife Capital of New Zealand".
Because the Northern Royal Albatross has a long breeding season, overlap occurs with six of 13 chicks of the 2016/17 season still present, seven having fledged in the last few days. The first returning adult recorded for the 2018/19 breeding season is an 11-year old female LKW (colour banded Lime Black White) which arrived two days ago on 16 September (read detailed account and see more photos of her arrival here).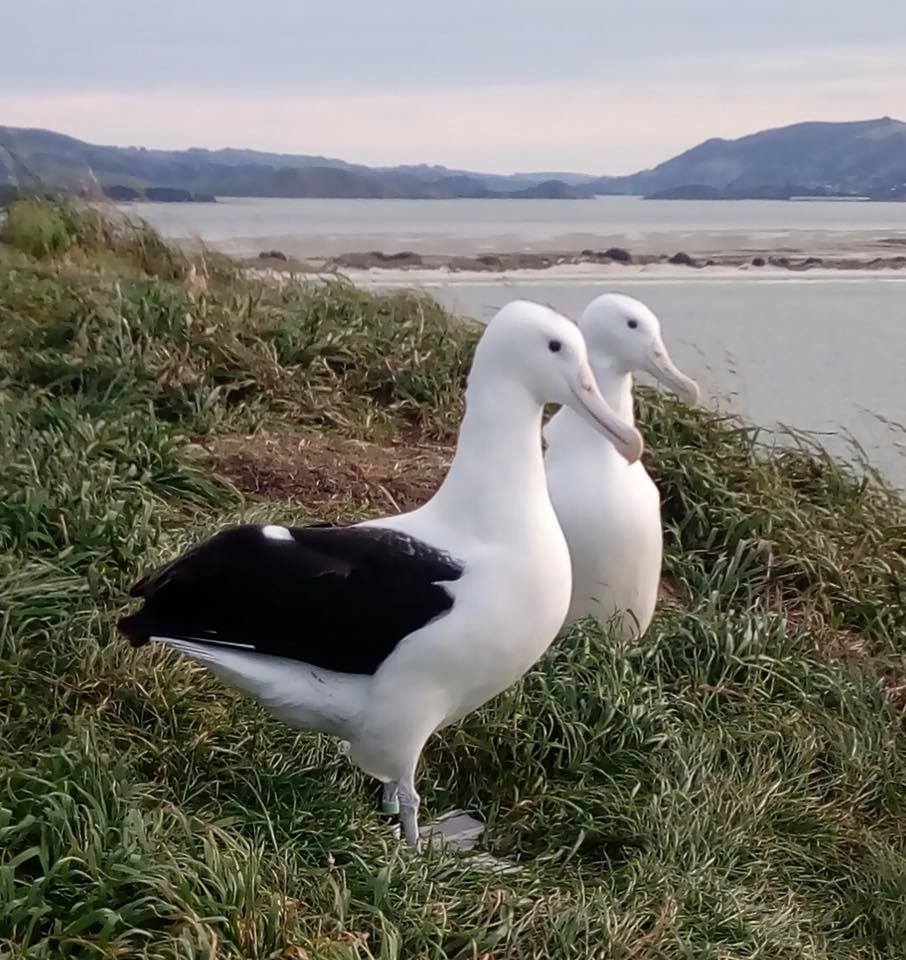 Northern Royal Albatross LKW soon after touch down on Sunday; the bird behind is a 2017/18 chick soon to fledge
Photograph by Sharyn Broni, courtesy of the Royal Albatross Centre
"A bumper season is expected in 2018/19 as there were many failed nests due to extreme weather in 17/18. September is an exciting time of year for us as we say farewell to the fledging chicks as they take their first flight out to sea and also welcome back the returning birds for the upcoming breeding season. There is always a bit of anticipation to see who is the first to return, who returns to breed, will there be any first time breeders and most exciting is finding out who returns for the first time since fledging many years prior."
In 2018 the colony celebrates 80 years since the first albatross chick fledged on 22 September 1938. In the 2017/18 season 148 colour-banded birds returned out of a total population of over 250, five as first time returners. Eggs laid were 33, resulting in only 13 chicks being reared from 16 hatchlings – ascribed to an unusually hot summer, which put the birds under a great deal of stress.
In the 2016/17 season 151 albatrosses returned, a record 17 for the first time. There were 36 nests with eggs and 25 chicks hatched with 23 chicks fledging.
Information from the Royal Albatross Centre Facebook page.
Click here to access the "Royal cam" - a 24-hour live stream of an albatross nest at Taiaroa Head during the breeding season.
John Cooper, ACAP Information Officer, 18 September 2018