Jesica Andrea Paz (Instituto de Investigaciones Marinas y Costeras, Universidad Nacional de Mar del Plata, Argentina) and colleagues have published in the journal Aquatic Conservation: Marine and Freshwater Ecosystems on seabird interactions and by‐catch in the anchovy pelagic trawl fishery in northern Argentina.
The paper's abstract follows:
"1. Commercial fishing has been identified as one of the main threats affecting the survival of most seabird species. Although seabird mortality in Argentine longline and demersal trawl fisheries has already been characterized and quantified, the interactions with pelagic trawl fisheries targeting anchovy (Engraulis anchoita Hubbs & Marini, 1935) remains unknown.
The goal of this study was to characterize seabird assemblages attending pelagic trawl vessels and to analyse their interactions (i.e. contact of the birds with the vessel and/or fishing gear and by‐catch). Data were obtained by on‐board observers during three consecutive fishery runs, 2011–2013.
From a total of 333 observations, seabird abundance averaged 157.3 ± 229.7 birds per haul (totalling 23 species). Procellariiform followed by Charadriiform birds were the more frequent and abundant groups. The black‐browed albatross (Thalassarche melanophris (Temminck, 1828)), shearwaters (Ardenna spp. and Puffinus spp.), whitechinned petrel (Procellaria aequinoctialis Linnaeus, 1758), and the kelp gull (Larus dominicanus Lichtenstein, 1823) were the most frequent and abundant attending species.
The seabird abundance increased when the swell and the number of neighbouring vessels decreased.
Seabird interactions with the vessel and/or fishing gear occurred in approximately 70% of the observations, with most of these representing interactions with the net (92%). The estimated contact rate was 16.7 birds h−1 per haul. A total of 121 birds were by‐caught and the average mortality rate was 0.55 birds h−1 per haul. Shearwaters and Magellanic penguins (Spheniscus magellanicus (Forster, 1781)) were the main by‐caught species (101 and 12 individuals, respectively). Lower levels of mortality were recorded in black‐browed albatrosses and white‐chinned petrels.
The interactions increased in the presence of fishing discards and during haulback operations.
This study is relevant to the implementation of the Argentine National Plan of Action – Seabirds, as well as for the continuing certification process in the anchovy fishery."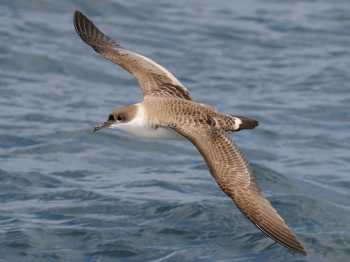 Great Shearwater at sea, photograph by John Graham
With thanks to Juan Pablo Seco Pon.
Reference:
Paz, J.A., Seco Pon, J.P., Favero, M., Blanco, G. & Copello, S. 2018. Seabird interactions and by‐catch in the anchovy pelagic trawl fishery operating in northern Argentina. Aquatic Conservation: Marine and Freshwater Ecosystems. DOI: 10.1002/aqc.2907.
John Cooper, ACAP Information Officer, 06 September 2018