The Tasmanian Parks & Wildlife Service (PWS) is seeking two volunteers as biologists on Australia's sub-Antarctic Macquarie Island, breeding home for seven ACAP-listed albatrosses and petrels.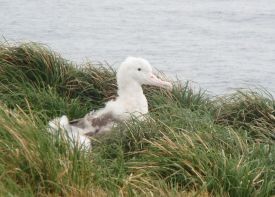 Wandering Albatross chick on Macquarie Island, photograph by Kate Lawrence
PWS is seeking "Expressions of Interest" from suitably qualified people interested in being considered for volunteer biologist roles at Macquarie Island. Potential participants are requested to submit applications that address the selection criteria.
Up to two successful applicants will be selected to travel to Macquarie Island in November 2018 (timing dependent upon the Australian Antarctic Division shipping schedule).
The successful applicant/s will need to pass Australian Antarctic Division and PWS pre-deployment requirements (including physical and psychological testing), as well as undertake predeparture training that is mandatory for all expeditioners to Macquarie Island, before being confirmed as PWS volunteers.
Contact This email address is being protected from spambots. You need JavaScript enabled to view it. for a copy of the selection criteria and the full Expression of Interest document.
Applications close on 24 August 2018.
John Cooper, ACAP Information Officer, 16 August 2016