A Global Audit of Biodiversity Monitoring has been proposed by BirdLife International with funding from the Cambridge Conservation Initiative (CCI) Collaborative Fund.
"A number of initiatives and international conventions seek to address the issue of the declining state of the world's biodiversity, notably by implementing conservation actions and promoting sustainable development. Effective action requires to be evidence based to set clear targets and priorities, measure progress and appropriately report on impacts to the key stakeholders and actors to inspire further involvement. In this context, the production and dissemination of biodiversity information, such as biodiversity monitoring data, is primordial.
Monitoring biodiversity includes tracking changes in species' abundance and occurrence. It is particularly important to help assess the changing conservation status of species, measure and report on the impact of conservation plans or of threats on species, manage natural resources, monitor sustainability or environmental impact of businesses and help raise awareness of conservation issues.
While a considerable amount of data on species monitoring is already available, some gaps have already been identified and need further investigation. Furthermore, locating the sources, databases and methodologies is difficult and time-consuming, reducing access to relevant information for end-users, decision- and policy- makers.
Supported by extensive and global network of partners and collaborators, this project aims to take stock of the distribution and coverage of species monitoring by undertaking a global audit of species monitoring schemes."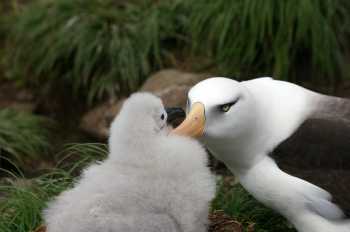 A Campbell Albatross preens its chick, photograph by David Evans
Contributions by researchers working withACAP-listed albatrosses and petrels can be made by way of an online survey.
Read more here.
John Cooper, ACAP Information Officer, 09 August 2018