The Albatross and Petrel Agreement develops advice and guidance to mitigate threats to albatrosses and petrels on land and at sea, including best-practice advice for reducing the impact of pelagic longline fisheries on seabirds. Branch-line weighting is an effective strategy for reducing seabird bycatch, and is one of the mitigation measures recommended by the Agreement.
When a bite off or tear out occurs during the recovery of the line, some flyback events may have the potential to cause injury to crew involved in hauling the catch. ACAP recognises the importance of improving safety in pelagic longline fisheries, and in response to safety concerns about flyback events, the Agreement commissioned the Australian Maritime College to undertake independent research examining the potential hazard posed by flyback events to crew members. The analysis conducted identifies technologies and techniques that may be implemented to avoid or mitigate this workplace hazard.
After three years of investigations and two comprehensive technical reports, ACAP is in the process of producing its advice on improving safety when hauling branch lines during pelagic longline fishing operations. To that end, a winter internship at the Australian Antarctic Division (AAD) was undertaken by James Johnston, as part of his Bachelor of Environmental Policy and Management studies at the University of Adelaide, South Australia. In helping to prepare the proposed advice for ACAP, James spent most of his time working at the AAD under the supervision of Australia's ACAP National Contact Point, Mr. Jonathon Barrington. He also spent some time working with the ACAP Secretariat. His valuable contribution will be submitted as a working paper to the next meeting of the ACAP Seabird Bycatch Working Group (SBWG9) in May 2019 in Florianópolis, Brazil.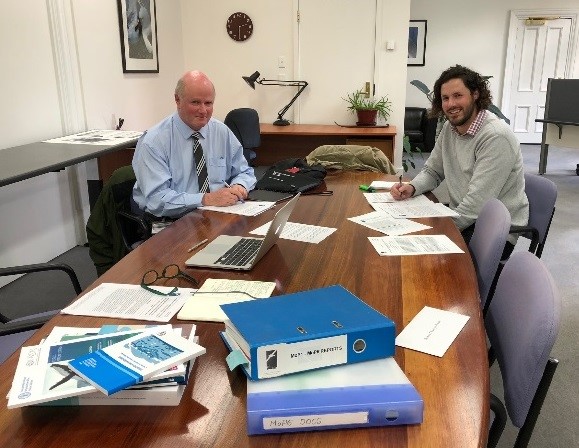 Jonathon Barrington (left) and James Johnston (right) working at the ACAP Secretariat on 26 July
Marco Favero, ACAP Executive Secretary, 01 August 2018