Desecheo Island is a National Wildlife Refuge managed by the U.S. Fish and Wildlife Service (FWS) off the coast of Puerto Rico. Its past seabird populations of frigate birds, tropic birds, boobies and terns were greatly reduced by introduced predators that included feral goats (removed in 2009), Black Rats Rattus rattus and Rhesus Macaques Macaca mulatta. After a decade long campaign all these aliens have been removed from the 146-ha island, with the rats and monkeys (save a single female) going in 2017, and the seabirds have started to return (click here).
Attempts are now being made by partners Island Conservation, FWS, and Effective Environmental Restoration (EER) to attract Audubon's Shearwaters Puffinus lherminieri to the island using a solar-powered sound system to broadcast the species' calls: "although there were no records of this species inhabiting Desecheo Island, the nesting habitat on the island is ideal for this species, with many crevices and burrows along the rocky coast. The species visits nearby islands so we know it is around, it is just a matter of setting up the right scenario on Desecheo for it to visit it as well".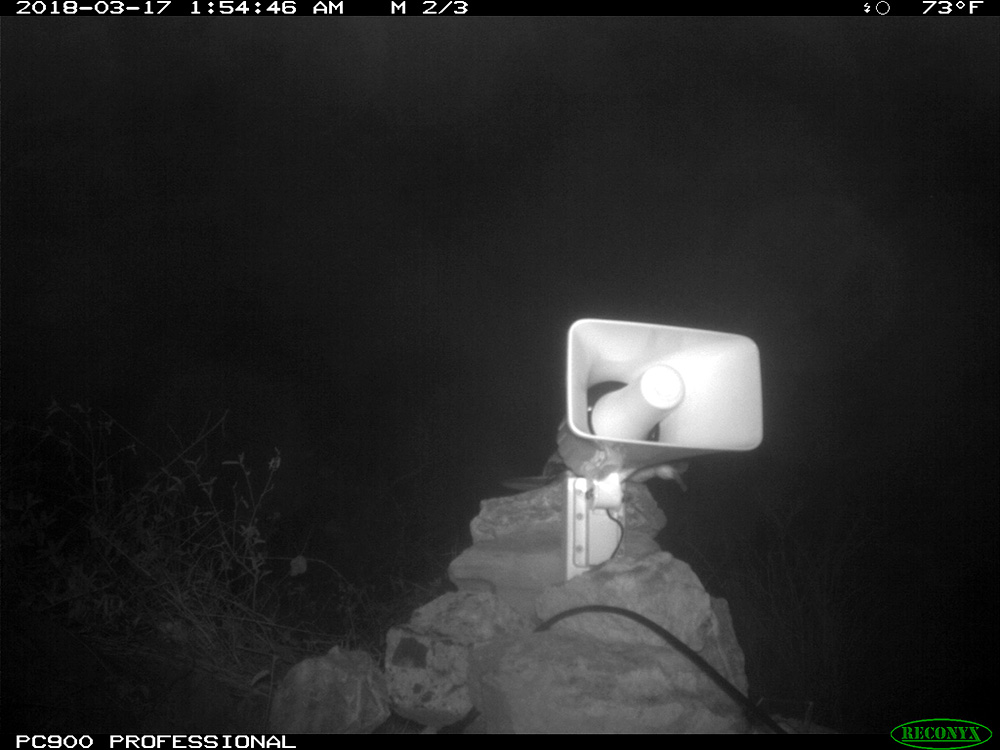 The Audubon's Shearwater is partially obscured by the speaker
In March this year footage from a trail camera revealed an Audubon's Shearwater sitting on top of one of the speakers at night. Future visits to the island will look for signs of breeding by the shearwater.
John Cooper, AAP Information Officer, 6 July 2018