A year forward from this week, the long-awaited attempt to eradicate "killer" House Mice Mus musculus on Gough Island will commence by the UK's Royal Society for Bird Protection (RSPB). Success will give the Critically Endangered Tristan Albatross Diomedea dabbenena – and other breeding seabird species - a chance to recover their numbers, following years of attacks by the mice (click here).
"One year from today we'll pack our bags, load the S.A. Agulhas II with four helicopters, all the equipment and supplies we need and set sail to Gough Island. After years of planning we mark this important and exciting milestone, one year until the mouse eradication departs. Thank you all for your support!
Since mice were first filmed preying upon on seabirds on Gough Island and rapidly driving some species towards extinction, we have been planning a mouse-eradication operation. With our expert partners we've assessed the risks, planned the complex logistics of shipping a seemingly endless list of equipment to an island via a seven-day ship journey, and have started building a strong team of some of the most knowledgeable people in the world of island restorations.
Today is an important day for us as we start counting down to the operation itself. No doubt it will come round very quickly, and there is still a lot of work to do and your support is needed more than ever! Although we can never guarantee success, we are well prepared, leaving nothing to chance, doing everything we can to ensure a successful outcome for Gough Island and its seabirds."*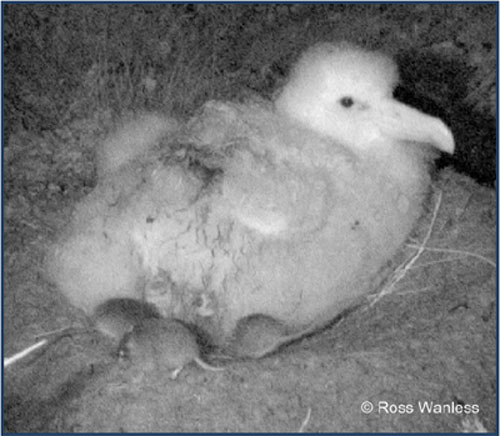 A Tristan Albatross chick on Gough Island is attacked by mice at night, photograph by Ross Wanless
Read more about the mice and their depredations on Gough's birds in ACAP Latest News here and watch a recent video of a mouse attack on an Endangered Atlantic Yellow-nosed Albatross chick.
*Quoted text edited for style and grammar.
John Cooper, ACAP Information Officer, 18 May 2018