The Museum of New Zealand – Te Papa Tongarewa in Wellington supports an active ornithological research programme that extends beyond the classic museum studies of taxonomy and osteology to active field work on seabirds at their mainly island breeding sites.
The museum posts a series of biodiversity blogs on its website, a number of which reports on field trips after seabirds that have been taken by staff members. The most recent blog, by regular contributor Colin Miskelly, describes how he joined a Department of Conservation team to study the globally Vulnerable Chatham Petrel Pterodroma axillaris and other burrowing seabirds on introduced predator-free Rangatira Island, a 219-ha designated nature reserve in the Chatham Group. Rangatira's fragile ground requires the wearing of "petrel boards" to reduce the chances of collapsing burrows when checking the contents of over 200 nest boxes installed from the mid 1990s. The boxes have been provided with flaps over their entrances to deter entrance by Broad-billed Prions Pachyptila vittata.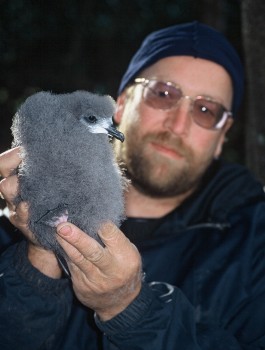 A downy Chatham Petrel chick held by Graeme Taylor, photograph by Helen Gummer
Earlier blogs by Colin Miskelly this year describe Te Papa involvement in field trips to the Auckland Islands studying albatrosses and burrowing petrels. Other species reported on include the globally Endangered and ACAP-listed Westland Petrel Procellaria westlandica, studied by Te Papa scientist Susan Waugh and colleagues (click here).
Te Papa has partnered with Birds New Zealand and the Department of Conservation to develop NZ Birds Online, a digital encyclopaedia of New Zealand birds, which, inter alia includes images, sound files and information for many of the 31 ACAP-listed albatrosses, petrels and shearwaters.
Read more about New Zealand's conservation work with Chatham Petrels here.
With thanks to Colin Miskelly.
Selected Literature on Rangatira's Chatham Petrels:
Gummer, H., Taylor, G., Wilson, K.-J. & Rayner, M.J. 2015. Recovery of the endangered Chatham petrel (Pterodroma axillaris): a review of conservation management techniques from 1990 to 2010. Global Ecology and Conservation 3: 310-323.
Nilsson, R.J., Kennedy, E.S. & West, J.A. 1994. The birdlife of South East Island (Rangatira), Chatham Islands, New Zealand. Notornis (Supplement) 41: 27-37.
Rayner, M.J, Taylor, G.A., Gummer, H.D., Phillips, R.A., Sagar, P.M., Shaffer, S.A. & Thompson, D.R. 2012. The breeding cycle, year-round distribution and activity patterns of the endangered Chatham petrel (Pterodroma axillaris). Emu 112: 107-116.
West, J. A. & Nilsson, R. J. 1994. Habitat use and burrow densities of burrow-nesting seabirds on South East Island, Chatham Islands, New Zealand. Notornis (Supplement) 41: 27-37.
John Cooper, ACAP Information Officer, 30 April 2018