A total of 282 globally Vulnerable and New Zealand endemic Chatham Albatross Thalassarche eremita chicks has been translocated by the Chatham Islands Taiko Trust from the Pyramid, the species' sole breeding site, to Point Gap on the main Chatham Island over the last five years in an effort to establish a new breeding colony. The colour-banded chicks were hand fed on fish and squid in the presence of adult decoys and a sound system until they fledged. The last chick of the year-five cohort of 55 who survived out of 60 collected fledged last week. Five chicks were lost to heat stress despite being hosed down on hot, calm days.
According to the Trust's Facebook page "Over the five seasons 262 chicks [out of 282 collected; 92.9%] have fledged from Point Gap. To achieve this has taken about 18 tonnes of fish and squid and over 14,000 hours of volunteer time! Now, we await the birds return, and hope that they remember their new home, and come back to Point Gap to breed." One colour-banded bird has already been photographed off South America (click here). "Hopefully the chicks from the first year will start coming back next season."
The decoys and sound system will be left in place at Point Gap to help attract albatrosses to the site - which will be monitored for returning hand-reared as well as for wild birds. Visits to the Pyramid will also be made to look for any translocated birds that might have returned there instead.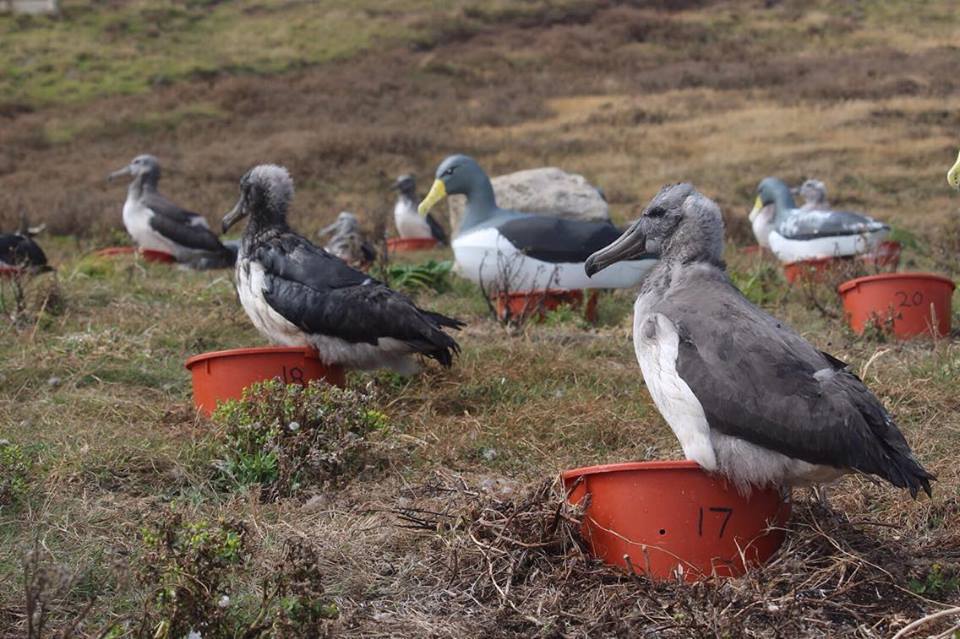 Translocated Chatham Albatross chicks on their bucket nests among adult decoys at Point Gap, photograph from the Chatham Islands Taiko Trust
The project has been supported by funding from The Rata Foundation, Lotteries Grant Board, BirdLife International and The Ornithological Society of New Zealand, along with a number of other organizations and individuals. To read more ALN postings on the project over the last five years click here.
With thanks to the Chatham Islands Taiko Trust.
John Cooper, ACAP Information Officer, 24 April 2018