President Michel Temer of Brazil has this month designated two Marine Protected Areas (MPAs) around the Trindade and Martin (Martim) Vaz and the St Peter and St Paul (São Pedro and São Paulo) Archipelagos in the South Atlantic, covering approximately 900 000 square kilometres. The declaration of the MPAs followed on from an active online campaign and a period of public comment.
"These two MPAs will increase the percentage of protection of the Brazilian Exclusive Economic Zone from the present 1.5 percent to near 24 percent. Near 12 percent of these new areas (111 thousand square kilometres) will receive protection from industrial fishing, mining and other detrimental activities." In the surrounding multiple-use zones fishing would be strictly regulated.
The islands support globally Vulnerable Trindade Petrels Pterodroma arminjoniana and Audubon's Shearwaters Puffinus lherminieri (Least Concern), the only procellariiform species that breed within Brazilian Territory.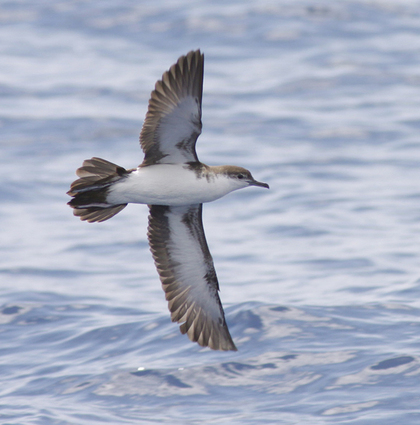 Audubon's Shearwater at sea
Read more here.
John Cooper, ACAP Information Officer, 21 March 2018