Greece has expanded its network of marine protected area (MPAs) by adding 32 new sites and extending 63 others to increase protected coverage of its marine waters in the Aegean and Ionian Seas from 6% to 22%. The new sites bring the total protected area in Greek waters to over a million hectares.
"Overlap between the marine network and marine IBAs (Important Bird and Biodiversity Areas identified by BirdLife) has now jumped to 85% - thereby laying the foundation for the protection of over 60-70% of the [Greek] national seabird population, notably including the Audouin's Gull, the Mediterranean Shag, Scopoli's Shearwater, Yelkouan Shearwater and the European Storm Petrel."
Scopoli's Shearwater Calonectris diomedea (globally Least Concern) and Yelkouan Shearwater Puffinus yelkouan (globally Vulnerable) have been identified as potential candidates for ACAP listing. Both species breed on Greek islands.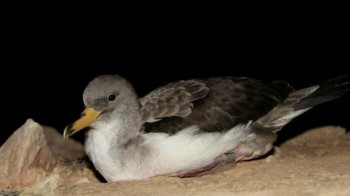 Scopoli's Shearwater fledgling
Read more here.
John Cooper, ACAP Information Officer, 24 January 2018