Wisdom, a female Laysan Albatross Phoebastria immutabilis considered to be at least 67 years old based on her band history, has returned once more to Midway Atoll in the North Pacific.
"U.S. Fish and Wildlife Service Refuge staff spotted Wisdom and her mate, Akeakamai, near their nest in late November, and on December 13 staff confirmed that Akeakamai was on the nest incubating an egg. Wisdom and her mate return to the same nest site on Midway Atoll each year. Since 2006, Wisdom has successfully raised and fledged at least nine chicks…" (click here).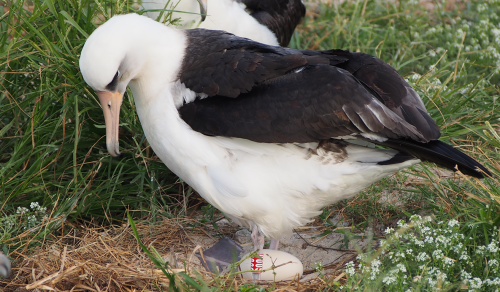 Wisdom's mate stands over her egg last month; a photograph of Wisdom for the current breeding season is awaited
Photograph courtesy of the US Fish and Wildlife Service
Read more about Wisdom's annual breeding activity in ACAP Latest News here.
View photos and videos of Wisdom here.
John Cooper, ACAP Information Officer, 01 January 2018