The American Bird Conservancy, Molokai Land Trust, Maui Nui Seabird Recovery Project , Pacific Rim Conservation and The Nature Conservancy of Hawaiʻi are working together to set up a social attraction site for globally Near Threatened Laysan Albatrosses Phoebastria immutabilis on the Hawaiian island of Molokai. Fourteen adult decoys have been placed in pairs to attract passing birds in the dune restoration site on the Anapuka peninsula within the 695-ha Mokio Preserve on the north-west coast of the island, a locality considered to be "well above any sea level rise projections". A vocalization unit has also been installed that broadcasts mating calls that will help attract prospecting birds.
"Creating new high-island colonies of [Laysan] Albatrosses is critically important as 99% of their population nest at less than 2 m above sea level."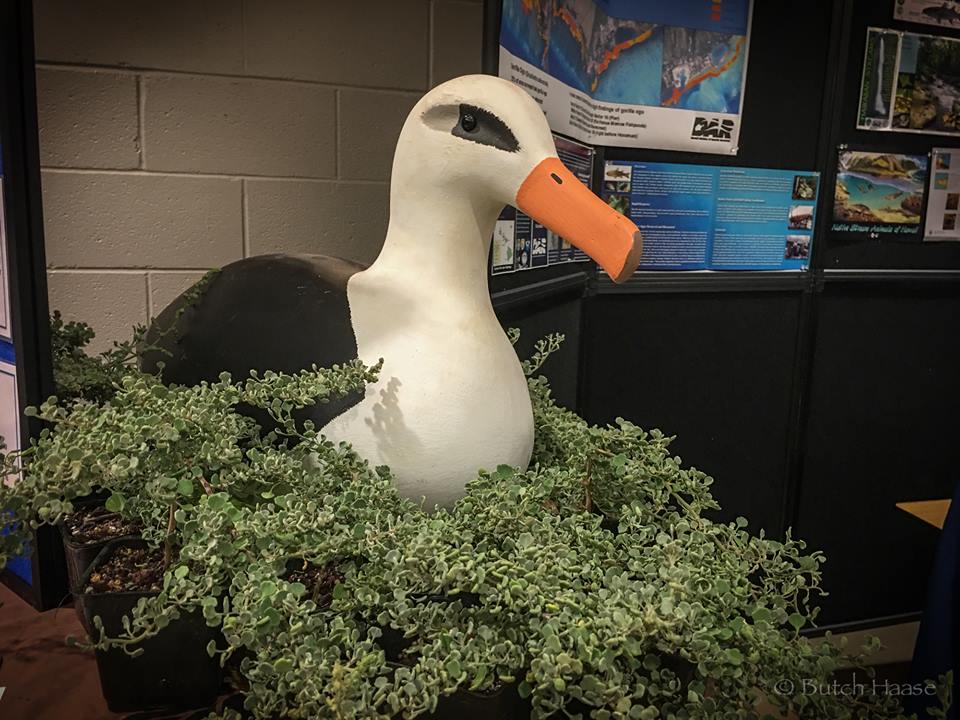 A Laysan Albatross decoy before deployment, photograph by Butch Haase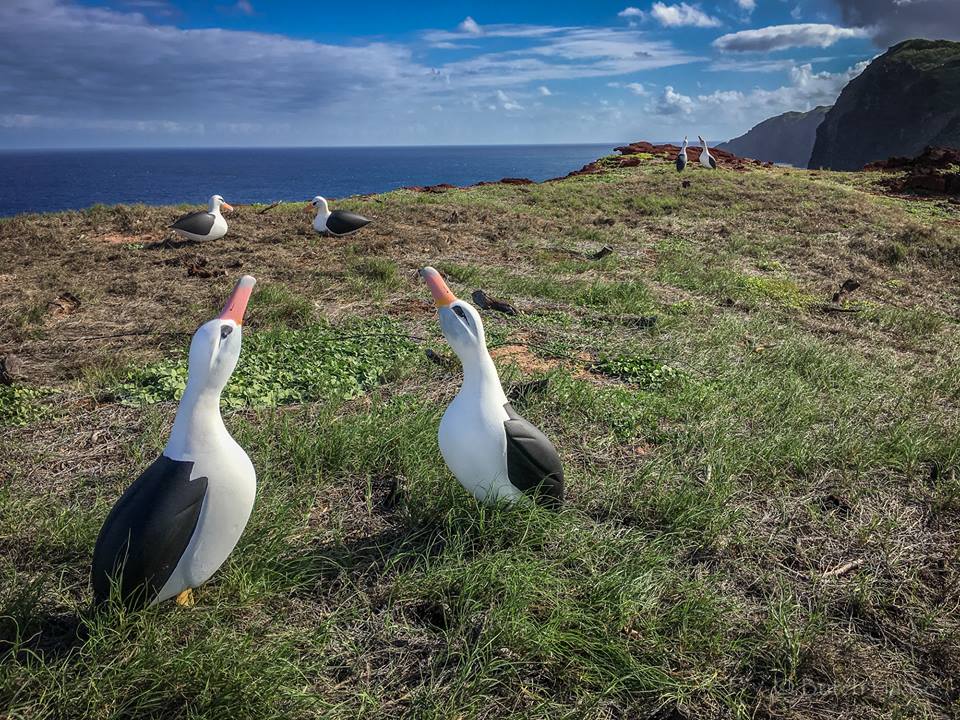 Looking up. Laysan Albatross decoys stand ready within the Mokio Preserve on Molokai
The US Fish & Wildlife Service has a documented breeding attempt from a location adjacent to the restoration site. The Molokai Land Trust has documented several landings of Laysan Albatrosses within the restoration site over the past several years and has made many observations of overflights and offshore flights within and near the project location.
The initiative follows an on-going attempt to create a high-level colony in the James Campbell National Wildlife Refuge on the nearby island of Oahu, where translocated Laysan and Black-footed P. nigripes chicks have been hand-reared until fledging (click here).
The site has been fenced to protect it from browsing deer and to deter feral cats and domestic dogs; in addition an active trapping programme targets cats, rats and mongooses. Several other breeding seabird species already benefit from predator control at the Mokio site, including White-tailed Phaethon lepturus and Red-tailed P. rubricauda Tropicbirds and Black Noddies Anous minutus, which nest in caves below the 45-60-m coastal cliffs. Two Black-footed Albatrosses have been seen flying in the vicinity recently so the possibility of attracting them to the restoration exists.
Elsewhere on Molokai, the Wedge-tailed Shearwater Ardenna pacifica colony in the 370-ha Moʻomomi Preserve (established in 1988 by the Nature Conservancy of Hawai'i) has increased from two nests in 1999 to nearly 1500 nests and more than 3200 birds (view a video). Control efforts with live traps prevent feral cats, rats and mongooses from preying on shearwater eggs, chicks and adults in the preserve. The preserve is also fenced against Axis Deer Axis axis, dogs and cats. Monitoring of the shearwater population over the last three years includes banding breeding adults and fledglings removed from their burrows (click here).
A Wedge-tailed Shearwater chick removed from its burrow for banding in the Mo`omomi Preserve, photograph courtesy of the Molokai Land Trust
With thanks to William 'Butch' Haase, Molokai Land Trust, Hannah Nevins, American Bird Conservancy and Lindsay Young, Pacific Rim Conservation.
John Cooper, ACAP Information Officer, 24 November 2017