John van den Hoff (Australian Antarctic Division, Kingston, Tasmania, Australia) has published open access in the journal Marine Ornithology on observations of Southern Giant Petrels Macronectes giganteus at breeding colonies in East Antarctica
The paper's abstract follows:
"Southern Giant Petrels Macronectes giganteus were leg-ringed as nestlings at two East Antarctic breeding locations, the Frazier Islands and Hawker Island, during the period 1959–1988. I searched these colonies in 2011, deducing ring numbers by using multiple digital photographs. The resightings suggest, but do not confirm, emigration between colonies separated by 1 500 km of coastline. The disparate nature of the ringing program within the Australian Antarctic Territory has led to a loss of important information that could now be used to model and predict how this long-lived species might respond to a number of population pressures, including environmental variability."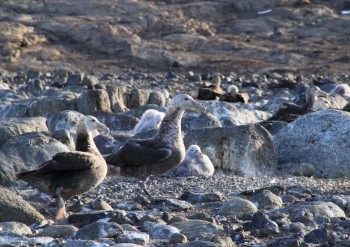 Breeding Southern Giant Petrels on Hawker Island, East Antarctica, photograph by Barbara Wienecke
Reference:
Van Den Hoff, J. 2017. Sightings of ringed Southern Giant Petrels Macronectes giganteus in East Antarctica: a tale of missed opportunity. Marine Ornithology 45: 191-194.
John Cooper, ACAP Information Officer, 07 November 2017