The Australasian Seabird Group will host the Third World Seabird Conference, the world's biggest gathering of marine ornithologists, in Hobart, Tasmania, Australia in 2020.
"It is planned to be held in Hobart city in the spring [austral or boreal?] of 2020. The two previous conferences brought together ~800 delegates from more than 40 countries for presentations, posters, meetings and workshops. It is hoped that some exciting field trips will be developed in conjunction with the conference in both Australia and New Zealand. Keep an eye on the ASG's website and Twitter account (@AUS_NZ_Seabirds) for further details" (click here).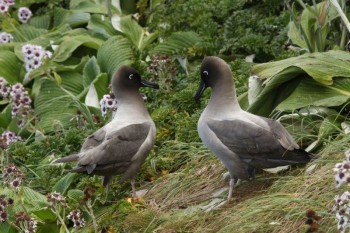 A pair of Light-mantled Sooty Albatrosses on New Zealand's Adams Island, photograph by Colin O'Donnell
The First World Seabird Conference was held in Victoria, Canada in 2010, the second in Cape Town, South Africa in 2015.
John Cooper, ACAP Information Officer, 30 October 2017