Lehua is a small, uninhabited island sanctuary in the USA's Hawaiian chain that supports populations of breeding seabirds, including small numbers of ACAP-listed Black-footed Phoebastria nigripes and Laysan P. immutabilis Albatrosses (click here). Following an unsuccessful attempt in 2009 to eradicate the island's Pacific Rats Rattus exulans, a second attempt was made this year over August and September with three successive poison bait drops by helicopter (click here).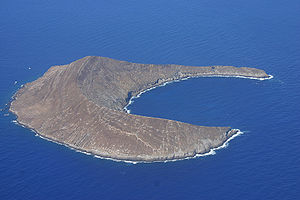 Lehua Island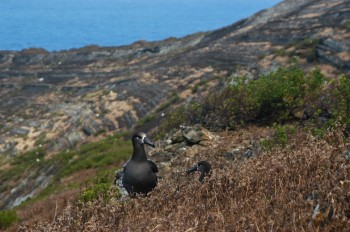 Black-footed Albatrosses on Lehua Island, photograph by Eric Vanderwerf
It is usual to wait two years with no sign of rats before formally confirming a treated island is rodent free. However, according to news reports this week the signs for Lehua are already good a month after the last bait drop with no rat sightings or sign and abundant seabird breeding activity recorded on a post-treatment visit: "the island was full of fat, healthy wedge-tailed shearwater [Ardenna pacifica] chicks and we saw no negative impacts of the bait drop." (click here).
A 28-minute documentary entitled "Lehua Island - Restoration of a Tropical Bird Paradise" will be shown on Hawaii TV this weekend (click here for viewing details).
Read more news reports on the eradication attempt here and here.
John Cooper, ACAP Information Officer, 19 October 2017