An opportunity exists to study the foraging of albatrosses from Midway Atoll in the North Pacific. The atoll supports large populations of Black-footed Phoebastria nigripes and Laysan P. immutabilis Albatrosses. Details follow.
"We are looking for a highly motivated PhD student with experience in programming and statistical modeling to join the Thorne Lab to work on an NSF-funded study of North Pacific albatross foraging energetics in relation to wind variability. The student will lead analyses of albatross movement, behavior and energetic expenditure, and will conduct field studies at Midway Atoll in the Northwestern Hawaiian Islands. Preferred qualifications/ skills include an MSc in Biology or a related field and experience working with movement data and statistics in R or Matlab. Experience handling birds and working at remote field sites would be advantageous but is not required. The anticipated start is in summer of 2018. Interested applicants should send a CV and cover letter outlining research interests and relevant experience to This email address is being protected from spambots. You need JavaScript enabled to view it. by October 31."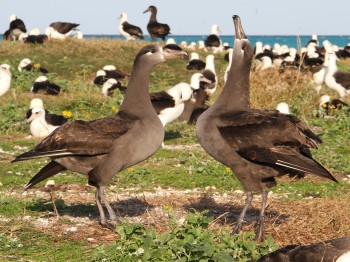 Black-footed and Laysan Albatrosses on Midway Atoll, photograph by Pete Leary
The Thorne Lab is a research laboratory in the School of Marine and Atmospheric Sciences at Stony Brook University in New York, USA.
"Our work focuses on understanding biological and oceanographic processes underlying spatial patterns in the habitat use and foraging ecology of marine predators (primarily marine mammals and seabirds). We use a combination of boat-based measurements, telemetry techniques, satellite data and spatial analyses to address ecological questions, and are primarily focused on issues with a direct application in conservation."
Read more on the Thorne Lab's research on North Pacific albatrosses.
John Cooper, ACAP Information Officer, 02 October 2017