The National Geographic Society's Grant Programs is making a call for applications to study long-distance migratory species.
Priority will be given to projects that aim to do one or more of the following:
fill critical knowledge gaps that can help reverse negative population trends;

demonstrate methods for improving population viability;

seek to promote the effective conservation of migratory populations and species;

develop intervention plans to help overwintering, breeding, or stopover sites; or

use public-private partnership models to protect migratory species and pathways.
Applicants may request US$10 000 - US$150 000 over one or two years.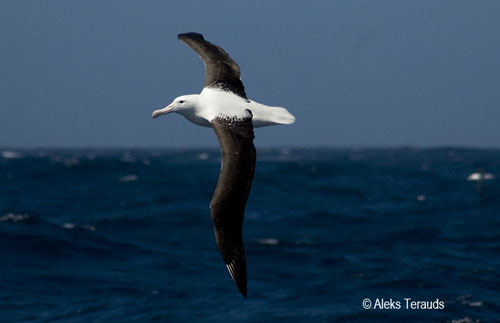 New Zealand to South America (and back): the Northern Royal Albatross is a long-distance migrant, photograph by Aleks Terauds
"Projects may be focused around conservation, education, research, storytelling, or technology, but all applications should explicitly state the plan for evaluating the impact of the work. Preference will be given to proposals that include feasible plans to measure baselines or demonstrate change in key indicators (e.g., migratory habitat size, habitat trends, population size, population trends and connectivity, vital rates, threat factors)."
The deadline for submission of proposals is 1 October 2017.
Find more information here.
With thanks to Mark Carey.
John Cooper, ACAP Information Officer, 24 August 2017