From time to time ACAP Latest News has reported on progress towards the eradication of introduced rats on Australia's Lord Howe Island, a World Heritage breeding home to burrowing petrels and shearwaters (click here).
The Rodent Eradication Program proposes to use the rodenticide brodifacoum to eradicate both rats and mice on the island. The rodenticide, in the form of Pestoff 20R, would be distributed by aerial baiting, hand distribution and in bait stations. A report on a human health risk assessment of the proposed eradication exercise has now been released (click here).
The assessment considers that the use of brodifacoum on the island is not likely to result in adverse health effects to humans. These findings will have implications for rodent eradications on other inhabited seabird islands, such as Pitcairn and Tristan da Cunha.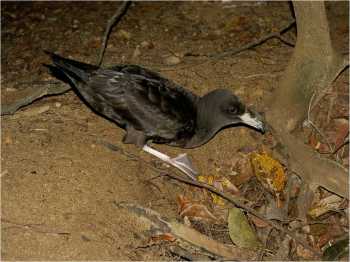 Flesh-footed Shearwaters are at risk to rodents on Lord Howe Island, photograph by Barry Baker
"…other relevant approvals processes will look at environmental outcomes (effect of brodifacoum on non-rodent species), likelihood of success of the eradication, and approval of helicopter operations during the Rodent Eradication Program. The results of these approvals and the recommendations of this report will be considered by the Lord Howe Island Board."
John Cooper, ACAP Information Officer, 31 July 2017