Christian Gutierrez, a 19-year-old university student, was sentenced last Thursday in a Hawaiian court to 45 days in jail, a fine of US$ 1000 and 200 hours of community service for his part in the killing of 15 breeding Laysan Albatrosses Phoebastria immutabilis in the Kaena Point Natural Area Reserve on the Hawaiian island of Oahu in December 2015.
"Christian Gutierrez must begin serving his jail sentence immediately. He also received one year's probation. He had pleaded no contest in state court in March to one count each of misdemeanour animal cruelty and theft, petty misdemeanour criminal property damage and of committing prohibited acts involving indigenous wildlife and in a natural area reserve" (click here).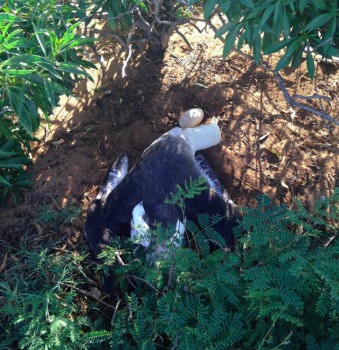 A slaughtered Laysan Albatross lies next to its egg
Previous to sentencing Deputy Prosecutor Janice Futa had asked for the maximum penalty of a year in prison and up to US$ 7000 in fines, as well as restitution to Pacific Rim Conservation, the non-profit that manages the albatross colony.
Listen to a video clip and read the comment of the judge and Gutierrez's apology in court here.
Read earlier stories on the "albatrossity" in ACAP Latest News from here.
John Cooper, ACAP Latest News, 10 July 2017