Dominic Rollinson (Percy FitzPatrick Institute, University of Cape Town, Rondebosch, South Africa) has reported in the on-line and open-access (but not peer-reviewed) publication Biodiversity Observations on five Critically Endangered Tristan Albatrosses Diomedea dabbenena colour banded on Gough Island that were subsequently observed in southern African waters.
"All of the individuals observed were adult males, aged 19 - 35 years. Four of the five birds had attempted to breed in the last 1-2 years, however all had failed".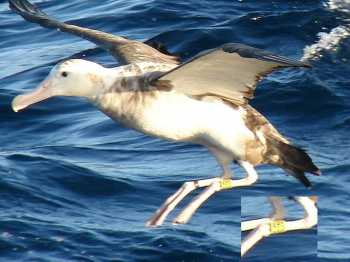 A colour-banded Tristan Albatross at sea, photograph by Meidad Goran
Read more on the at-sea distribution of colour-banded Tristan Albatrosses in ACAP Latest News here.
Reference:
Rollinson, D.P. 2016. At-sea sightings of banded Tristan Albatrosses off the Western Cape and a review of records in southern African waters. Biodiversity Observations 7.66: 1- 4.
John Cooper, ACAP Information Officer, 01 June 2017