The last of 20 translocated Hawaiian Petrel Pterodroma sandwichensis chicks have fledged from the fenced Nihoku section of the Kilauea Point National Wildlife Refuge on Hawaiian Kauai Island this breeding season (click here).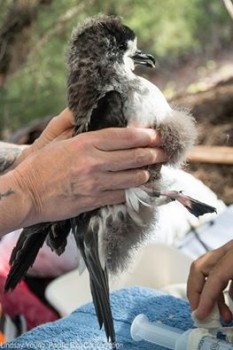 A Hawaiian Petrel chick gets translocated
Over two seasons 36 Vulnerable Hawaiian Petrel and Endangered Newell's Shearwater Puffinus newelli chicks have been removed from their natural burrows in the island's mountains, where they are risk to feral cats Felis catus and Black Rats Rattus rattus, and hand-reared within the predator-proof enclosure with the aim of creating new colonies of the two threatened species.
Pacific Rim Conservation, the non-profit organization responsible for the feeding of the birds at Nihoku, has stated "We are thrilled that every single petrel and shearwater translocated this season successfully fledged from the translocation site." The translocation project is set to run for five years.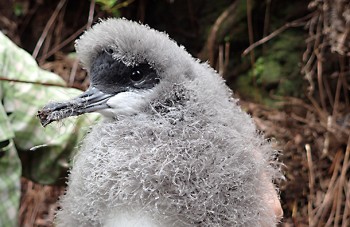 A Newell's Shearwater chick, photograph by Andre Raine
Read more here.
John Cooper, ACAP Information Officer, 23 December 2016