"The 2017 Annual Meeting of the Pacific Seabird Group will be held at the Greater Tacoma Convention and Trade Center in downtown Tacoma, Washington, USA, 22-25 February 2017. In keeping with the locale for the meeting, the theme is "Sound to Sea: Marine Birds Across the Seascape" and we are planning a robust scientific program, with a variety of technical sessions and symposia.
Tacoma is ideally situated along the shores of southern Puget Sound where you'll find great places to run, hike, kayak, paddle board and, of course, birdwatch – Puget Sound is a nationally significant wintering area for a wide diversity of marine birds. Boasting stunning natural surroundings, with Mount Rainier in full view, you can enjoy the mesmerizing outdoors just minutes from the downtown.
Tacoma's downtown core has undergone significant urban renewal with growing food, music and artistic scenes. Conference attendees will have easy access to museums, urban parks, fine dining, nightlife, microbreweries, and local coffee and tea shops. Within walking distance of the conference hotel, attendees will find the Washington State History Museum, the Tacoma Art Museum, and the Tacoma Museum of Glass. A bit further away, you will find the Point Defiance Zoo located in the vast and beautiful Point Defiance Park."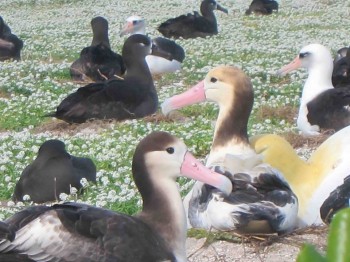 The Pacific region supports three breeding albatrosses: Black-footed, Laysan and Short-tailed, seen here together on Kure Atoll
"As in past years, the PSG Annual Meeting will include invited and contributed papers, including plenary speakers. We have four Special Paper Sessions and three symposium. Contributed sessions include topics familiar to PSG members such as breeding biology, conservation biology, and tracking & distribution."
Registration, abstract submission (deadline 28 November) and travel award applications are now open (click here).
John Cooper, ACAP Information Office, 14 October 2016