Protection of Antarctica's marine environment received support at the International Union for the Conservation of Nature (IUCN) World Conservation Congress being held in Honolulu, Hawaii, USA when 107 governmental members (96%) voted in favour of new Marine Protected Areas (MPAs) in Antarctica's Southern Ocean. Only four governmental members voted against the motion, although 45 abstained. A total of 507 non-governmental organizations (97%) also voted in favour (click here).
The adopted IUCN Congress motion urges the Commission for the Conservation of Antarctic Marine Living Resources (CCAMLR) to designate marine reserves in the Ross Sea and East Antarctica. Both proposed MPAs will offer formal support for the more southerly-ranging ACAP-listed species, such as Light-mantled Albatross Phoebastria palpebrata and Southern Giant Petrel Macronectes giganteus, as well as for other marine biota.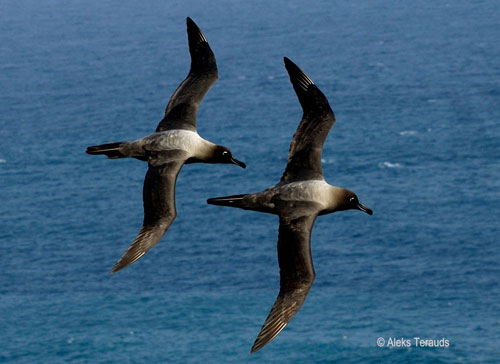 Light-mantled Albatrosses, photograph by Aleks Terauds
CCAMLR's Scientific Committee and Commission meet in Hobart, Australia next month, when it is expected the proposed MPAs, will, once more, come up for discussion.
The IUCN represents over 1300 member organizations, including states, government agencies, scientific and academic institutions, business associates and non-governmental organizations.
Click here to read of previous progress by CCAMLR towards the new Antarctic MPAs.
A news item on the vote can be read here.
John Cooper, ACAP Information Officer, 05 September 2016