The Ninth Meeting of ACAP's Advisory Committee (AC9) was held in the Hotel Club La Serena on the beachfront in La Serena, Chile over 9-13 May this year. With the AC's Chair, Marco Favero having taken over the position of Executive Secretary from retiring Warren Papworth earlier in the year, the Vice-Chair Mark Tasker took over the reins and chaired the meeting in Chile. The Report of AC9 is now available online on this website (click here).
Ten of the 13 Parties to ACAP attended the Advisory Committee meeting. Parties France, Norway and Spain notified their apologies for not being able to attend. Delegates from three non-Party countries, Canada, Namibia and the USA, were present. Both Namibia and the USA reported on their progress towards accession to ACAP; Namibia stated that it hoped to accede to ACAP by the end of the year. Three environmental NGOs also attended as observers. Unusually, BirdLife International was not represented at the AC meeting.
Prior to the meeting's closure Nathan Walker (New Zealand) and Tatiana Neves (Brazil) were appointed Chair and Vice Chair of the Advisory Committee, respectively. Mark Tasker, a veteran of ACAP meetings and previous AC Chair and Vice-Chair was appointed Convenor of the AC's Taxonomy Working Group which conducts its work by correspondence.
The Advisory Committee accepted an offer from New Zealand to host the Tenth Meeting of the Advisory Committee (AC10). The meeting would most likely take place in late August / early September 2017. The meeting closed with grateful thanks offered to the Chilean hosts. Highlights of AC9's deliberations will be posted in future articles to ACAP Latest News.
In the week before two of the AC's three working groups met in the same locality. The reports of the Population and Conservation Status and of the Seabird Working Groups were posted to this website recently (to access click here).
The French and Spanish translations of the AC9 report are currently being prepared and should be available on this web site by mid-July.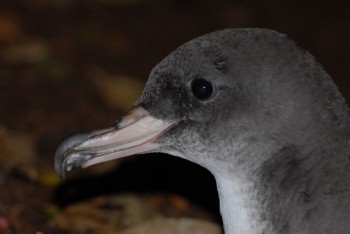 Pink-footed Shearwater, ACAP-listed and a Chilean breeding endemic; photograph by Peter Hodum
John Cooper, ACAP Information Officer, 17 June 2016