The 2016 New Zealand Bird Conference and Annual General Meeting of Birds New Zealand will be held in Napier (Hawkes Bay) over 4 - 6 June. A number of presentations will deal with procellariiform birds. Abstracts for the two talks on ACAP-listed species, the Buller's Albatross Thalassarche bulleri and the Black Petrel Procellaria parkinsoni are given below.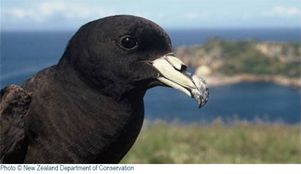 Black Petrel, photograph by Department of Conservation
Elizabeth (Biz) Bell, Claudia Mischler & Nikki McArthur. Can you hear me? Using acoustic monitoring to determine the presence and range of black petrels on Great Barrier Island/Aotea, Te Hauturu-o-Toi/Little Barrier Island and the Moehau range.
Nocturnal seabirds are ideal candidates for acoustic monitoring because they are highly vocal at their colonies, particularly in the breeding season. Seabirds have distinct calls, and the signature of these calls can be distinguished to species using acoustic analysis software and archived for future use. A number of automated acoustic recorders were deployed across Great Barrier Island/Aotea, Te Hauturu-o-Toi/Little Barrier Island and the Moehau Range to record calls of black petrels (Procellaria parkinsoni) in the air and on the ground through the 2014/15 and 2015/16 breeding seasons. The recorders were deployed at selected locations at all three sites from late-November and were retrieved before the end of May covering the egg laying, incubation and early chick rearing period of the black petrel breeding season. Black petrels call on the ground when trying to attract mates to their burrow between October and February with most activity being in November and December. Calling continues through the night, with peak activity occurring in the first few hours after dark. The acoustic recorders were programmed to record for one hour each night during the peak period of activity (with times varying at different locations), logging any calls within the range of the microphones. Over 5000 hours of recordings have been collected between December 2014-April 2015 and November 2015-March 2016. Acoustic software has been used to start the analysis of this long recording series with the aim to detect and catalogue calls by species and determine when and where the calls were made. This will provide data on the presence and range of black petrels and other seabirds (and species) across the three sites and provide locations that could be ground-searched for black petrel burrows using random transects and seabird-dogs in the future.v Preliminary results have identified a number of species on the acoustic devices at all three locations and suggest black petrels are present across Great Barrier Island/Aotea in any suitable habitat type and are concentrated on the main high altitude ridgeline on Hauturu/Little Barrier Island and could be prospecting on the Moehau Range.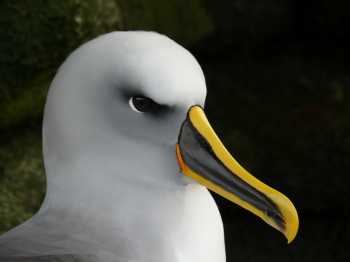 Buller's Albatross, photograph by Paul Sagar
Jana Wold, Peter Ritchie, Geoff Chambers & Christopher J. Robertson. Review of taxonomy and development of genetic assignment testing for Northern Buller's albatross
Buller's albatross are an endemic species to New Zealand and is currently divided into two subspecies, Northern (Thalassarche bulleri platei) and Southern (Thalassarche bulleri bulleri). These taxa have nonsynchronous breeding seasons, but their identification using morphological methods is challenging. Distinguishing between the two taxa is crucial as Buller's are a significant bycatch in commercial fisheries and the relative impact on each population is unknown. Long breeding cycles, low fecundity and late sexual maturity potentially slow the recovery of populations from disturbances that reduce the number of breeding individuals. The overall objective of this study is to use a set of DNA markers to determine the degree of genetic differences between Northern and Southern Buller's albatross. This information could be used to help resolve the taxonomic status of the subspecies. Mitochondrial DNA and microsatellite DNA will be used to determine the levels of genetic variation and differentiation within and between the Northern and Southern Buller's populations. The specific aims of this study are: 1) to develop molecular methods, mtDNA sequencing and microsatellite genotyping for Buller's Albatross, 2) to use these tools to determine levels of genetic differentiation between the northern and southern groups, and 3) to develop a method for determining the provenance of individuals
The following papers by authors and title on procellariiform birds will also be presented at the conference (click here to read their abstracts).
Johannes H. Fischer, Igor Debski, Graeme Taylor & Heiko U. Wittmer. Nest-site selection in South Georgian Diving Petrels on Codfish Island (Whenua Hou): implications for conservation management
S.B. Borrelle, Jones, H.P., Barbara Bollard-Breen & D.R. Towns. Spectral response of Pohutukawa to seabird nutrient inputs [burrowing seabirds] (click here for more information)
Alan J.D. Tennyson, Matt J. Rayner, Graeme A. Taylor, Stefanie M.H. Ismar, Neil B. Fitzgerald, Megan Friesen & Chris P. Gaskin. Breeding biology of the New Zealand storm petrel
Colin M. Miskelly & Charles-André Bost. Seabird research in the French subantarctic (Crozet and Kerguelen Islands)
B.J. Dunphy, Goddard, R.F., Taylor G.A. & Hickey A.J.R. Conservation physiology of New Zealand seabirds: haematological biomarkers of El Nino impacts? [Sooty Shearwater Puffinus griseus]
Rachel F. Goddard, Anthony J. Hickey & Brendon J. Dunphy. Diving physiology and anatomy of sooty shearwaters: What makes them such exceptional athletes?
Megan Friesen, Anne Gaskett, Louis Ranjard, Amy Martin, Jacqueline Beggs & Cheryl Krull. Evidence of vocal matching in a seabird species: examining acoustic responses in grey-faced petrels
M.J. Rayner, Gaskin, C., Taylor, G., Young, M., Berg, M., Baird, K., Heiss-Dunlop, S., Ismar, S., Freisen, M., Landers, T.J., Sagar, R. & Dunphy, B.J. Tales from the A frame: a summary of insights from the first 12 years of research of the Burgess Island seabird community [burrowing seabirds]
R.L. Sagar., Dunphy B.J., Stanley M.C. & Rayner M.J. Winds of change: an inter-annual investigation of factors affecting breeding success in mottled petrel
Graeme Taylor, Kath Walker, Graeme Elliott, Erica Sommer & Matt Rayner. Ecology of Pterodroma petrels in New Zealand, behavioural insights from geolocation tracking and activity data
R.L. Sagar., Dunphy B.J., Stanley M.C. & Rayner M.J. Nobody suspects the tea/l: mortality events in burrow nesting seabird chicks as a result of attacks by Campbell Island teal
John Cooper, ACAP Information Officer, 01 June 2016