In December this year 55 researchers from 30 nations will set off on an international scientific expedition from Cape Town, South Africa to circumnavigate Antarctica for three months aboard the Russian research vessel Akademik Treshnikov. The Antarctic Circumnavigation Expedition (ACE), set to last until March 2017, is the first project of the recently established Swiss Polar Institute. The 22 selected research projects to be conducted range from glaciology to climatology, biology and oceanography.
Experienced seabird researcher, Henri Weimerskirch from the Centre d'Etudes Biologiques de Chizé, France, will lead one of the ACE projects entitled "Monitoring of threatened albatrosses and penguins: population censuses and distribution at sea". A description of the project follows:
"The aim of the project is to obtain vital new information on the population status of several threatened and/or globally important species of albatrosses and penguins. The islands to be visited during ACE are those identified as top priorities for surveys of specific populations by the Populations and Conservation Status Working Group of the Agreement on the Conservation of Albatrosses and Petrels (ACAP), or hold major populations of penguins for which no recent count data exists. We will also validate the use of satellite imagery for counting great Diomedea spp. albatrosses. In addition, depending on permits for access to some islands, the tagging of several key populations of albatrosses will allow for the first time the evaluation of habitat preferences of these top predators during the breeding season, which is critical for modelling the potential impact of climate and oceanographic change. In addition, the tracking and isotopic sampling study will allow us to estimate the degree of overlap between albatrosses and penguins and the marine environment and measure overlap with fisheries, which are a major threat to several species."
Southern Ocean islands planned to be visited during the circumnavigation that support breeding populations of albatrosses include the Prince Edwards, Crozets, Kerguelen, Macquarie and South Georgia (Islas Georgias del Sur)*.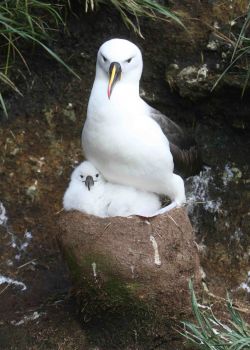 Indian Yellow-nosed Albatross on Prince Edward Island, photograph by Peter Ryan
Read about the expedition's other research projects here.
John Cooper, ACAP Information Officer, 22 April 2016
*A dispute exists between the Governments of Argentina and the United Kingdom of Great Britain and Northern Ireland concerning sovereignty over the Falkland Islands (Islas Malvinas), South Georgia and the South Sandwich Islands (Islas Georgias del Sur y Islas Sandwich del Sur) and the surrounding maritime areas.