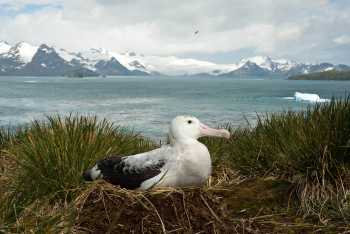 Wandering Albatross on Prion Island, photograph by Anton Wolfaardt
A draft biodiversity action plan has been produced for South Georgia and the South Sandwich Islands (Islas Georgias del Sur y Islas Sandwich del Sur)*. The plan covers the period 2016 to 2020.
The plan gives the overall goal of environmental management on the identified islands as to conserve the environment, minimise human impacts and, where practicable, restore the native biodiversity and habitats. "To this end, this plan seeks to ensure that species and habitats receive adequate protection and that all current and future activities … are managed sustainably and with the interests of protecting the environment at their heart."
Among a number of objectives, the plan lists the following of significance to the conservation of ACAP-listed species:
Review the plan for the implementation of the Agreement on the Conservation of Albatross and Petrels (ACAP) on a regular (five-year) basis;
Undertake actions described in the ACAP implementation plan and report as required to the ACAP Secretariat; and
In light of on-going population declines, develop species action plans for Black-browed, Grey-headed and Wandering Albatrosses.
In relation to the Commission for the Conservation of Antarctic Marine Living Resources (CCAMLR) the draft plan states:
"Continue to rigorously implement and refine mitigation measures to avoid the incidental mortality of seabirds, including working with ACAP…".
Other issues covered by the biodiversity plan include monitoring the recovery of the native biota after removal of alien species such as rodents; enhanced quarantine and biosecurity procedures to halt reintroductions; and environmental clean–ups coupled with combatting pollution.
It is intended the draft plan will be finalized this year.
John Cooper, ACAP Information Officer, 29 February 2016
*A dispute exists between the Governments of Argentina and the United Kingdom of Great Britain and Northern Ireland concerning sovereignty over the Falkland Islands (Islas Malvinas), South Georgia and the South Sandwich Islands (Islas Georgias del Sur y Islas Sandwich del Sur) and the surrounding maritime areas.